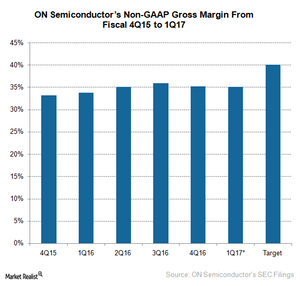 Looking at ON Semiconductor's Strategy to Improve Its Gross Margin
By Puja Tayal

Feb. 22 2017, Updated 7:36 a.m. ET
ON Semiconductor's profitability
In the previous part of this series, we saw that ON Semiconductor's (ON) 4Q16 revenues rose due to better-than-seasonal demand and the accelerated integration of Fairchild Semiconductor. The merger brought cost and revenue synergies, although these synergies could take some time to materialize.
Major cost synergies could start reflecting in the combined company's earnings by the end of 4Q17 as it completes the integration of the production and IT systems.
Article continues below advertisement
Gross margin
ON's non-GAAP[1. generally accepted accounting principles] gross margin fell from 35.9% in 3Q16 to 35.2% in 4Q16. Its gross margin fell slightly due to the addition of Fairchild Semiconductor's manufacturing network. However, the 35.2% margin was higher than the 33.2% margin reported in 4Q15. ON's global factory utilization was sequentially higher in 4Q16 due to higher-than-expected revenues.
For 1Q17, ON expects its gross margin to fall to 35% as its factory utilization falls sequentially to ~80%.
ON's gross margin is lower than the gross margins of rivals Maxim Integrated (MXIM), Analog Devices (ADI), and Texas Instruments (TXN) of 64.1%, 66.1%, and 62.5%, respectively. The huge difference in margins is because these rivals have a higher mix of analog chips that are manufactured in old facilities that have already been paid off.
Article continues below advertisement
How does ON plan to improve its gross margin?
ON's gross margin depends 50% on its incremental revenues and 50% on its product mix. The company is shifting its production to higher margin products for automotive, industrial, and communications. Moreover, it's looking to benefit from the cost synergies coming from the large scale of the combined company.
Fairchild Semiconductor has an 8-inch manufacturing capacity to handle front-end manufacturing, and ON has a strong back-end manufacturing capacity. The two companies' manufacturing capacities are running below their optimal utilization levels.
ON looks to transition its front-end manufacturing to Fairchild Semiconductor's 8-inch facility and bring Fairchild's back-end manufacturing, which is currently outsourced to third-party manufacturers, in house. With this, ON aims to improve its cost structure and achieve its non-GAAP gross margin target of 40%.
ON has already started in-sourcing Fairchild Semiconductor's back-end operations and plans to complete the process by the end of 2017. It would realize the cost benefits from this process in 2018 and 2019. ON has already started realizing cost synergies from purchasing, planning, and other related functions.