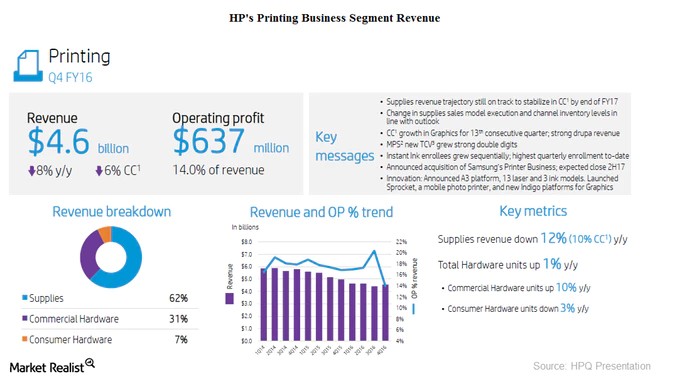 Inside HP's Printing in Fiscal 1Q17
Canon's laser printer sales rose in 4Q16
Canon (CAJ), an HP Inc. (HPQ) competitor in the printing segment, reported a rise in unit sales in its laser printer business in 4Q16 (HP's fiscal 1Q17) after a decline during the first nine months of calendar 2016. Revenue from Canon's inkjet printer business, however, fell 11.1% YoY (year-over-year) in 4Q16. Xerox, another competitor, reported a 12% YoY fall in its Equipment Sales business segment in 4Q16.
According to IDC, worldwide laser printer sales fell 10.5% YoY in 4Q16, as compared to a fall of 14.6% YoY in 3Q16.
Article continues below advertisement
How did HP's Printer business perform in fiscal 4Q16?
HP Inc.'s (HPQ) Printing business group reported revenues of $4.6 billion in fiscal 4Q16, which represents a fall of 8% YoY on a constant currency basis. The operating profit of this segment was $637 million, or 14% of total revenues.
Supplies constituted 62% of revenues in the Printing segment, whereas Commercial Hardware and Consumer Hardware accounted for 31% and 7% of revenue, respectively.
Revenues from HPQ's supplies subsegment fell by 12% YoY—10% YoY on a constant currency basis—in fiscal 4Q16. Total Hardware units rose 1% YoY, while Commercial Hardware units rose 10%, and Consumer Hardware units fell 3% YoY in fiscal 4Q16.
HP continues to lead the printer and supplies market
According to IDC (International Data Corporation), HP led the Worldwide Hardcopy Peripherals market with a share of 37.9% in 3Q16, as compared to 38.6% in 3Q15. Other leaders in this market include Canon, Japan's (EWJ) Epson, Brother, and Samsung (SSNLF), with shares of 19.6%, 18.3%, 7.1%, and 3.3%, respectively.
Notably, unit shipments for HPQ fell 4.7% YoY in 3Q16.