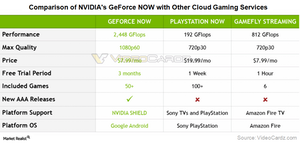 Inside GeForce NOW: Nvidia's New Gaming Revenue Stream
By Puja Tayal

Feb. 8 2017, Updated 9:06 a.m. ET
Nvidia's new revenue streams in gaming
Nvidia (NVDA) is looking at new revenue streams within the gaming space after dominating the high-end PC gaming market. It has made inroads into the game console market and low-end GPU (graphics processing unit) market to capture a larger share of gaming. This has made Nvidia popular among gaming enthusiasts and mainstream gamers.
With its cloud gaming service GeForce NOW, the company is now looking to tap the large audience of people who are not regular gamers or have never played PC games.
Article continues below advertisement
GeForce NOW
Until now, gamers had to buy Nvidia-sanctioned devices to play modern video and PC games. This made it unaffordable for many gamers as a PC supported by Nvidia's GTX 1080 GPU would cost $1,200. Nvidia is now looking to change this and bring GeForce like experience to the audience who owns PCs and laptops without the latest GPUs.
Nvidia plans to launch a game streaming service, GeForce NOW, in March 2017, wherein it would create a library of high-end gaming PC on the cloud. Gamers can rent these PCs directly from Nvidia and control them from their remote device using a high-speed internet connection. It's not clear, however, if Nvidia will host this service on its own data center or on another cloud platform like Amazon.com's (AMZN) Amazon Web Services.
Right now, a user has to download a small client and install it in order to start playing games. A user can rent 20 hours of play for $25, and an even better resolution would be available for a charge of $25 for ten hours. However, if the user has a slow Internet connection—or if Nvidia's data center gets overloaded with too many consumers streaming video games at the same time—the quality of the visuals can be affected, and the screen could freeze or shake.
Regardless of the internet problem, GeForce NOW could appeal to many PC owners who want to play modern games but cannot afford a high-end GPU.
Challenges
This is not the first time cloud gaming was introduced. Companies like OnLive and Gaikai offered video game streaming services before 2012 but failed due to various reasons such as poor streaming quality, old games, and limited choice. In 2012, Sony (SNE) acquired Gaikai for $380 million to run its own PlayStation Now streaming service, which streams older video games.
Nvidia faces the challenge of making cloud gaming platforms a success, and it has all the right tools for the job. GeForce NOW has partnered with online game stores Steam and Green Man Gaming to offer modern games, and it will likely use Nvidia's GPUs to deliver high-quality streaming.