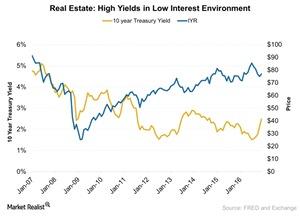 How Would an Interest Rate Hike Affect Real Estate Valuations?
Drivers of real estate sector performance
Interest rates serve as an important variable in real estate investors' decisions and affect the purchasing ability of these investors. The value of real estate stock is not only driven by mortgage rates, but they also depend on capital flows within an economy and the expected rate of return for investors.
Some companies in this sector include Simon Property Group (SPG), Public Storage (PSA), Crown Castle International (CCI), and American Tower Corporation (AMT). The easy access to capital in a low interest rate environment increases investments in these assets. It also leads to rising prices of these assets as demand increases.
Let's look at the performance of the iShares Dow Jones US Real Estate ETF (IYR) compared with the increase in interest rates.
Article continues below advertisement
Real estate sector performance in 2016
The real estate sector's (VNQ) (IYR) performance was subdued in 2016 due to its supply-demand dynamics. These dynamics affected the sector's profitability and expectations of a high-interest rate environment.
If you compare the performance of the iShares US Real Estate ETF (IYR) during the period before and after the financial crisis between January 2007–December 2008, the fund dropped about 50%. Following the financial crisis, IYR has surged ~100% through December 2016.
After the 2008 financial crisis, central banks kept interest rates low in an effort to keep up with the economy. The real estate industry's performance rebounded during the past two years due to low interest rates. The possible reasons for the sector's resilience could be its strong economic performance, which supports the prospect of an increase in rent and occupancy levels.
As a result, REITs[1. real estate investment trusts] are expected to post strong net operating income. All these factors benefit the participants and may neutralize the impact of higher interest rates. At this point, it's difficult to assess the impact of interest rates on real estate prices.
The US economy is on the road to recovery and is gradually gaining strength. Wages jumped 2.9% year-over-year during 4Q16. If this growth is to continue in 2017, we may see some momentum in the housing market.
In the final article in this series, let's look at the 2016 sector performance in the US markets.