How Did GoPro Reduce Its Operating Expenses in 4Q16?
In 4Q16, GoPro's (GPRO) gross margin fell from 40.6% to 39.5% in 3Q16, primarily driven by channel mix.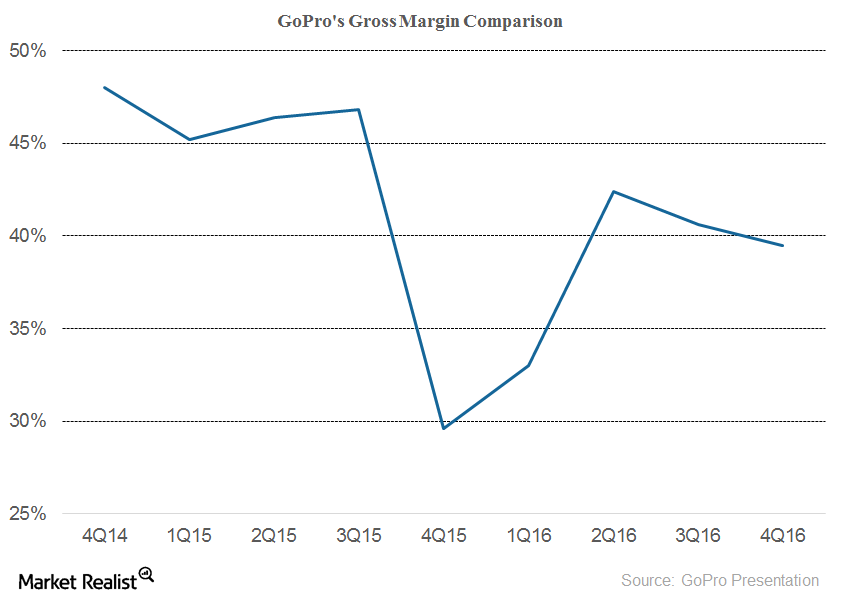 Reduction in costs
GoPro's (GPRO) primary focus is to reduce costs and increase profit margins in fiscal 2017. The company has made several changes in its organizational model. In November 2016, GoPro removed one-third of its roles at the level of vice president and above.
During the 4Q16 earnings call, the company's CFO, Brian McGee, stated, "We have also moved away from a complex business unit structure to a functionally driven product development organization. In addition to having a positive impact on spending these changes allow us to improve communication across the teams and will enable faster more reliable execution."
Article continues below advertisement
Article continues below advertisement
GoPro noted that it intends to shift resources to low-cost locations such as China and the Philippines. In February 2017, the company opened an office in Bucharest, Hungary, and replaced its software contractors with regional domestic teams. GoPro has closed several California facilities and offices in San Francisco, Los Angeles, and San Mateo over the last few months.
On November 30, 2016, GoPro announced that it would cut its workforce 15%, lay off 200 full-time employees, and cut back the use of contractors. The company also stated that it planned to eliminate its Entertainment unit.
These initiatives are expected to cut the company's operating expenses to $650 million in 2017.The layoffs, the closure of its Entertainment segment, and other restructuring measures are expected to eliminate ~$650 million from GoPro's adjusted operating expenses in 2017.
Gross margin and R&D expenditures
In 4Q16, GoPro's (GPRO) gross margin fell from 40.6% to 39.5% in 3Q16, primarily driven by channel mix. Its gross margin in 4Q15 was 29.6% due to a $57 million impact of charges related to entry-level products.
GoPro's research and development expenses also rose 10% year-over-year (or YoY) in 4Q16 due to the company's investment in the HERO5 line of cameras, Karma, and other software and accessories. Its increase in branding, product marketing, and entertainment initiatives meant that its sales and marketing expenses rose 28% YoY in 4Q16.