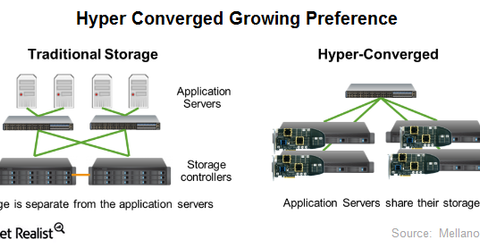 Why VMware Is Focused on Hyper-Converged Infrastructure
By Anne Shields

Updated
VMware targets hyper-converged infrastructure
Earlier in the series, we discussed how a partnership with Amazon (AMZN) would benefit VMware (VMW) in the cloud space. To gain a strong foothold in the public cloud space, VMware has pursued a hyper-converged infrastructure (or HCI).
According to The Wall Street Journal, Sanjay Poonen, chief operating officer at VMware, stated that VMware's vision is to "build bridges" between the data center and public cloud spaces. Before joining VMware, he was associated with SAP (SAP). Through VSAN (virtual storage area network), the company's virtual storage offering, VMware is targeting the HCI space.
Article continues below advertisement
VSAN is preferred by companies that want to keep their computing and storage in one box. VMWare's offerings in the HCI space include the VSAN and VxRail software. Its hyper-converged software license bookings rose 150.0% on a YoY (year-over-year) basis in 3Q16. These bookings are likely to post similar or even higher growth in 4Q16.
Hyper-converged benefits
In an HCI, computing, storage, and networking capacities are merged and handled primarily by software, and not hardware, saving companies and CIOs (chief information officer) the hassle of purchasing separate components and integrating them manually.
Traditional storage has servers sharing different layers of storage appliances over a network. On the other hand, HCI solutions merge the local storage within each server into a VSAN, a shared and distributed layer of storage.
As there are no separate storage requirements to be provisioned, deployment is fast. Through the addition of more nodes, scaling becomes easy. Thus, with HCI, a separate storage network is no longer required. However, a fast, low-latency network is required to connect the nodes.
The benefits offered by HCI explain the reason behind its popularity with small companies. HCI is also preferred by big companies when they want to run desktop systems and manage branch offices remotely.
Apart from VMware, Hewlett-Packard Enterprise (HPE), Cisco Systems (CSCO), and startups such as Cohesity and SimpliVity dominate the HCI space. In the next article, we'll discuss why HPE chose to acquire SimpliVity.