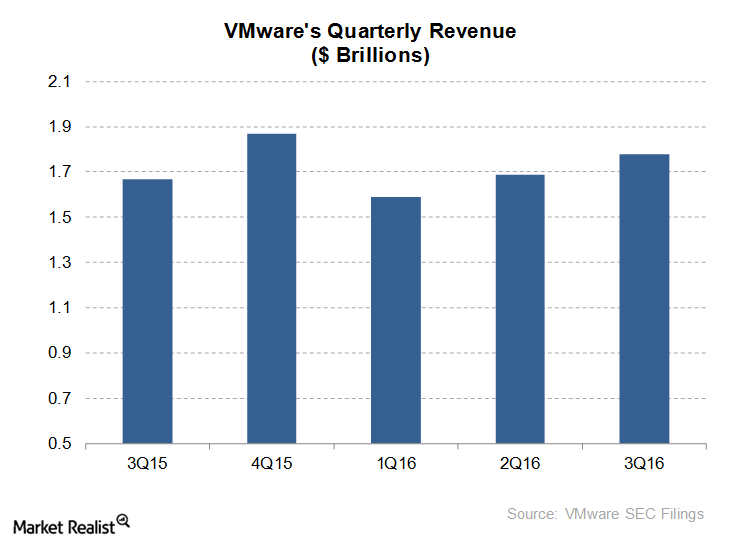 Does VMware's Acquisition of PlumGrid Make Sense?
VMware harvests PlumGrid's assets
VMware (VMW) parted with an undisclosed sum to add PlumGrid to its portfolio. The acquisition included assets and some employees. But how will VMware benefit from acquiring PlumGrid?
VMware is no doubt pitching for future growth as it faces disruption in its core virtualization operation, and the acquisition of PlumGrid should be seen in the light of cloud computing. PlumGrid designs what might be called smart software-designed networking (or SDN) systems. The startup has created a controller for network virtualization, which in addition to providing a way to communicate with switches, supports additional functions like network monitoring and security.
As VMware looks to the cloud computing market for growth, the company needs differentiated products to beat the competition. With the acquisition of PlumGrid, VMware has laid hands on technologies it can leverage to create outstanding products for the cloud market.
Article continues below advertisement
PlumGrid, which has received about $46.0 million in venture funding, was started in 2011 by former Cisco (CSCO) engineers. Larry Lang joined PlumGrid as CEO in 2015, replacing the startup's co-founder Awais Nemat who took up the role of chair of the board. VMware earlier acquired PlumGrid rival Nicira.
VMware is buying PlumGrid shortly after the startup entered a partnership with Quanta Cloud Technology. The partnership aimed to provide SDN-based OpenStack solutions.
VMware can draw from its virtualization experience
The acquisition of PlumGrid also comes after VMware announced it was developing hyperconvergence data centers as a way to tap into the rapidly growing enterprise cloud and mobility markets.
Although the trend of enterprises renting computing power from providers like Amazon (AMZN) and Microsoft (MSFT) is disrupting VMware's virtualization business, the company remains confident that it can still play a vital role in the cloud computing era given its vast expertise and experience offering virtualization technologies.
Dell Technologies (DVMT) bought VMware's parent, EMC, for $60 billion.