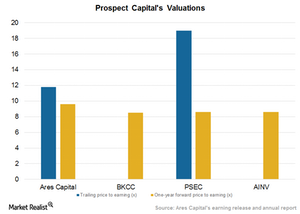 Prospect Capital's Valuations: Fair amid Originations, Leverage
Deployments to rise
Prospect Capital (PSEC) stock rose 3.0% over the past three months and 20.0% over the past year. The company is currently trading 5.0% below its 52-week high. It's targeting higher deployment in the upcoming quarter as yields on debt offerings are expected to improve. However, it will have to keep leverage and capital position in a comfortable position in order to avoid a higher cost of capital.
In fiscal 1Q17, Prospect Capital saw net new originations of $232.8 million, reflecting an improved investment environment. Its interest income and other income are expected to rise in the upcoming quarters on new investments.
Prospect generated distributable income of $77.0 million, or $0.22, on a per-share basis. In fiscal 2016, its EPS (earnings per share) was $1.07, higher than its dividends per share of $1.
Prospect's 12.0% dividend yield is the highest among its investment management peers. Here's how some of its competitors' dividend yields compare:
Together, these companies make up 4.5% of the PowerShares Global Listed Private Equity ETF (PSP).
Fair valuations
Prospect Capital is currently trading at 8.6x on a one-year forward earnings basis. Its peers are trading at an average of 8.8x. Prospect's valuation gap has fallen over the last quarter due to a rise in its stock, mainly due to a stable operating performance. The company's yields and originations stood strong in fiscal 1Q17, laying a foundation for future growth.
Prospect's strategy of investing in multiple strategies and investment pipelines has enabled it to have higher yields with a diversified risk portfolio. The company's major profitability drivers could be higher originations across its targeted asset classes and maintaining a prudent leverage and strong balance sheet.
For a related analysis, be sure to check out Market Realist's Financials page.
Article continues below advertisement