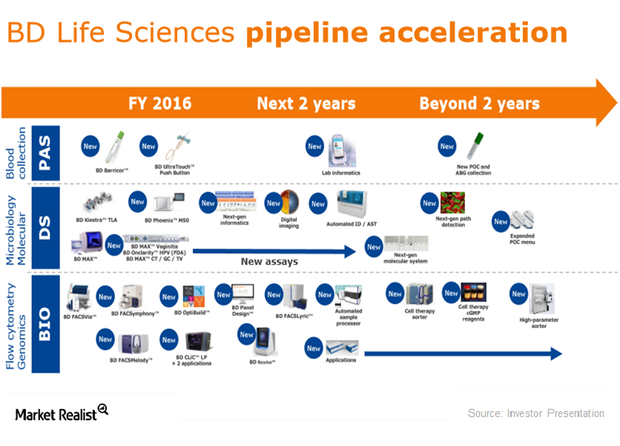 BD Lifesciences's Product Pipeline Could Boost Its Fiscal 2017 Growth
Overview
Becton, Dickinson and Company (BDX), or BD, has several programs in its pipeline and products under development. The company believes its current product pipeline is its "biggest, boldest and deepest" pipeline it has had in its Lifesciences segment.
Some of BDX's major competitors in this market space include Thermo Fisher Scientific (TMO), Abbott Laboratories (ABT), and Illumina (ILMN). Investors can gain diversified exposure to BDX by investing in the Vanguard Dividend Appreciation ETF (VIG). BDX accounts for ~0.86% of VIG's total holdings.
Article continues below advertisement
Article continues below advertisement
Pre-Analytical Systems segment
Becton, Dickinson and Company (BDX) recently launched BD Barricor, a next-generation blood separation technology, and BD Ultra Touch Push Button under its Pre-Analytical Systems division. Both products are expected to generate significant revenues.
In fiscal 2017, BDX is expected to launch several lab informatics solutions, which are currently under development.
Diagnostics
Under its Diagnostics pipeline, Becton, Dickinson and Company expects to expand its Kiestra platform through new module additions. Some upcoming enhancements include digital imaging technology and automated identification and susceptibility testing.
In molecular diagnostics, BD continues to advance its BD MAX portfolio. The company is developing a next-generation diagnostics program with enhanced automation of core labs.
BD's microbiology and molecular portfolio is focused on developing a next-generation point-of-care technology that leverage the existing Veritor platform.
Biosciences
Under Becton, Dickinson and Company's (BDX) Biosciences business, flow cytometry is one of the major growth areas for the company. The company aims to expand its portfolio of new cell therapy tools through various industry collaborations and in-house development programs.
In its Research division, BDX is working toward strengthening its suite of analyzers and sorters such as FACSMelody and FACSymphony, Sirigen dyes, and research optimization tools.