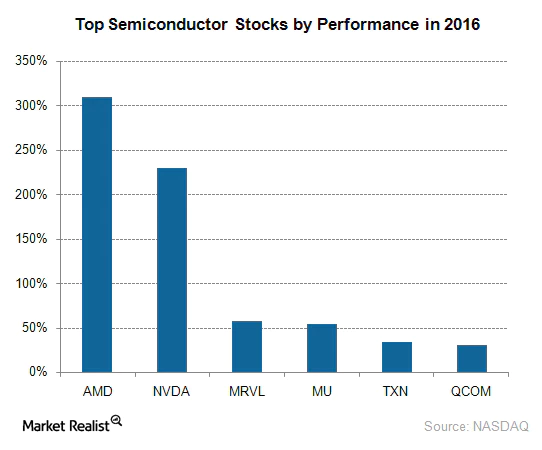 AMD Stock Continues to Fall in 2017
AMD stock fell 9.4% in the last week
Advanced Micro Devices (AMD) stock fell 9.4% in the week ended January 20, 2017. Shares of the firm have fallen 14% since the start of 2017 after an incredible run last year where the stock rose 295%. In the trailing-one-year period, shares of the firm have risen 441% even though AMD has posted negative earnings per share (or EPS) and has a huge debt pile on its balance sheet.
AMD's peer NVIDIA (NVDA) rose over 200% in the last 12 months. As seen below, semiconductor (SMH) stocks Marvell Tech (MRVL) and Micron (MU) also posted returns of over 50% YoY (year-over-year) in 2016.
AMD aims to meet its 2017 objectives by making its comeback in the high-end graphics and computing market. AMD's CEO, Lisa Su, has streamlined the company's focus on advanced technology in fast-growing markets.
AMD recently unveiled its next-generation GPU, Vega, which it plans to launch in 1H17. It also unveiled its long-awaited Ryzen CPU, which it plans to launch in 1Q17. By targeting high-end markets, AMD aims to improve its margins and cash flows.
Article continues below advertisement
How do analysts view AMD?
Of the 26 analysts covering AMD, 11 have given it "buy" recommendations, two have given it "sell" recommendations, and 13 have given it "hold" recommendations. Analysts' stock price target for the company is $9.35, and its median target price is $8.75, which indicates that AMD is trading at a premium of 10.3% to median analyst estimates.