Will Payment Processors Keep Seeing the US Dollar Impact in 2017?
Payment processors are now seeing improved performances on increased spending, new technologies, expansion into global markets, and the stable US dollar.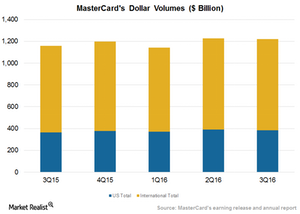 Dollar impact
The US Federal Reserve has raised interest rates in 4Q16, which could positively impact the US dollar. Meanwhile, payment processors (XLK) have seen their international earnings negatively impacted by the strong dollar. Visa's (V) International Transactions segment, for example, has posted strong growth in Europe and Asia, but this was partially offset by slowing growth Southeast Asia and the strong US dollar, which led to a fall of 3% in 3Q16.
Visa's international revenue includes currency conversion activities and cross-border transaction processing. Its revenue rose 36% to $1.5 billion in 3Q16.
Article continues below advertisement
Article continues below advertisement
By comparison, MasterCard (MA) generated almost 69% of its total dollar volumes from international markets in 3Q16, reflecting its global portfolio. The company benefits from corporate programs, partnerships, and rebates in Asia and Europe. It reported 14.5 billion in total processed transactions, as compared to 12.3 billion in 3Q15.
Discover Financial Services' (DFS) garners a majority of its income from domestic markets, reflecting a smaller exchange risk.
Global partnerships
MasterCard, meanwhile, managed high double-digit growth outside the US, helped by Europe, the Middle East, and Asia. The company also saw a rise in rebates and discounts to $1.2 billion in 3Q16, as compared to $1.0 billion in 3Q15. There was also a nominal rise of 21.0%, reflecting the company's marketing efforts to attract more clients and partnerships to its product offerings.
By comparison, American Express's (AXP) International Card Services segment revenues rose 5% to $1.4 billion, as compared to $1.3 billion in 3Q15. On a constant dollar basis, revenues rose 7%, reflecting 2% negative impact of the strong US dollar. The division accounted for 18% of the company's total revenues, as compared to 17% in the previous quarter.
In the next part, we'll study data-related services that could benefit payment processors in 2017.