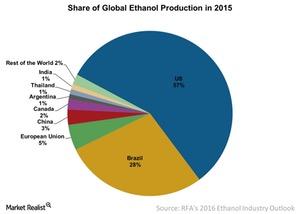 Why the US Ethanol Industry Matters from a Global Perspective
By Adam Jones

Dec. 23 2016, Updated 7:37 a.m. ET
Ethanol industry
The United States is a major producer of ethanol (PUW) globally, followed by Brazil. In 2015, the United States produced about 57.0% of the total global ethanol with a total of 14.7 billion gallons.
Brazil's ethanol production share in 2015 stood at 28.0%, or 7.1 billion gallons of ethanol, according to the Renewable Fuels Association's 2016 Ethanol Industry Outlook report.
Article continues below advertisement
Ethanol as a fuel additive
Ethanol is used for medical purposes such as mouthwash, sanitizers, and analgesics. It's also used in alcoholic beverages, which is why some alcoholic beverages flame up when lit. But the biggest use of ethanol is a fuel additive mixed with conventional fossil fuel. You'll often see your fuel labeled E10 at a gas station, which indicates that the fuel has 10.0% ethanol blended into the composition.
Fossil fuels are non-renewable, and a shortage can wreak havoc on the economy. It was the desire for alternative energy that gave rise to the ethanol industry. Ethanol burns cleaner and is a renewable source of energy. Regulations in the industry can put pressure on participants such as Pacific Ethanol (PEIX), REX American Resources (REX), Green Plains (GPRE), and Renewable Energy Group (REGI).
Ethanol prices impact the stocks of these companies, but just how strong is that relationship? We'll take a look at that in the next part.