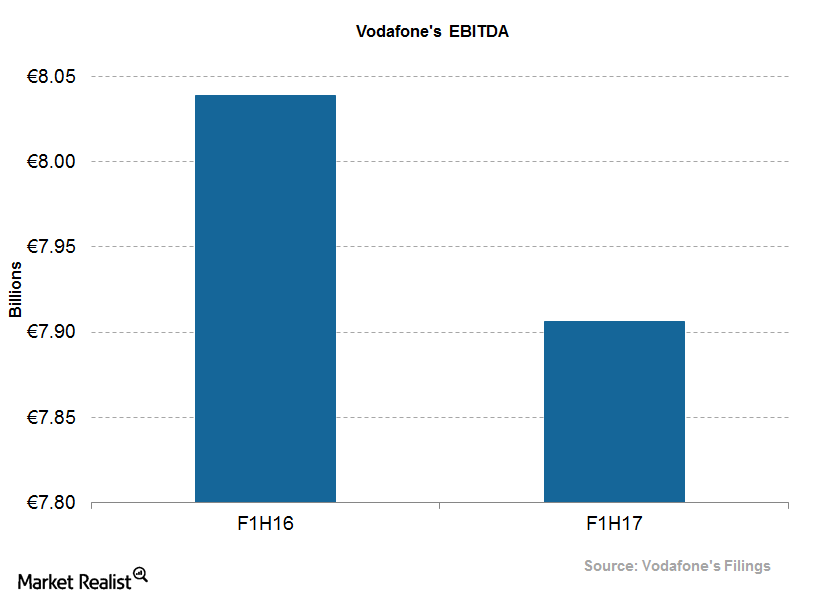 Understanding Vodafone's Cost Structure and Earnings Margins
Vodafone's EBITDA margin
In the previous part of this series, we discussed Vodafone's (VOD) revenue trend. Now let's take a look at Vodafone's EBITDA (earnings before interest, tax, depreciation, and amortization) margin.
The company's EBITDA was ~7.9 billion euros in fiscal 1H17, compared to ~8 billion euros in fiscal 1H16. Its EBITDA margin rose to 29.2% in fiscal 1H17, compared to 28.6% in fiscal 1H16. The rise was mainly due to strong cost controls despite drags from roaming regulations, increased content costs, and a higher operating cost base following the company's Project Spring.
Article continues below advertisement
Organically, in fiscal 1H17, Vodafone's EBITDA rose a significant 4.3% over fiscal 1H16. The company's management has indicated that its fiscal 2H17 EBITDA should improve even further. Vodafone is also looking to expand its existing Fit for Growth cost savings program, which should lead to its underlying EBITDA growing faster than its service revenue growth.
A peer comparison
According to company filings, in 3Q16, Orange's (ORAN) EBITDA margin was 34.9%. AT&T (T) and Verizon's (VZ) EBITDA margins were 41.2% and 36.5%, respectively. AT&T is enjoying higher margins than those of its competitors due to cost synergies associated with its DIRECTV acquisition.
Vodafone expects its EBITDA to be in the range of 15.7 billion–16.1 billion euros in fiscal 2017, which is equivalent to organic EBITDA growth of 3%–6%.
In the coming articles, we'll delve deeper into Vodafone's fiscal 1H17 performances in key markets.