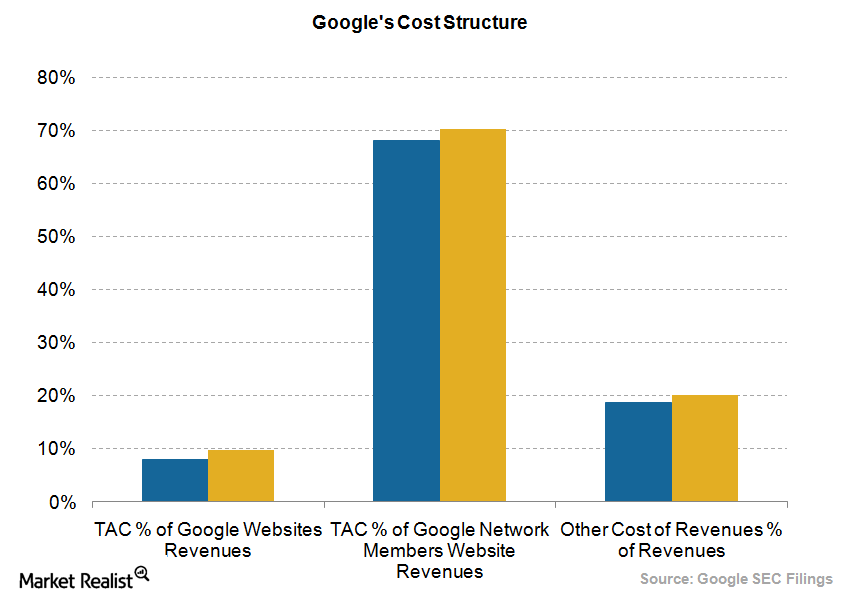 Understanding Google's Rapidly Growing Expenses
Rapidly rising overall costs for Google
Alphabet (GOOG) continues to grow its revenues at an impressive pace. Its revenues grew by a healthy 20% on a YoY (year-over-year) basis last quarter, despite the fact that the strong US dollar (UUP) had a negative YoY impact of $196 million on its revenues. After incorporating for the benefit of Alphabet's hedging program, the impact was $91 million.
But despite this impressive revenue growth, Google's (GOOGL) overall costs grew at an even higher rate last quarter. This is evident from the fact that costs related to TAC (traffic acquisition costs) and other costs grew faster than revenues. The other costs came from data center operations and content acquisition, primarily for YouTube. The chart below shows the trend for each cost structure.
Article continues below advertisement
Article continues below advertisement
Mobile search and programmatic expenses
Google attributes the growth in its TAC to its strongest revenue growth areas—namely, mobile search and programmatic. Mobile searches have become the most important growth driver for Google. More than half of Google searches take place on mobile, and this ratio continues to increase. To achieve this milestone, Google has focused its efforts on indexing mobile apps—the same way it has emphasized indexing Web content over the years.
Local inventory ads have also benefited Google in better monetizing its mobile ads. These ads provide users with real-time information about products in stock in local stores on mobile devices. This winds up being a real win-win situation for Google, its retailers, and its consumers because Google earns ad revenues, while consumers benefit from access to local information and retailers get more business.