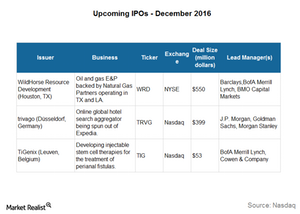 Trivago's Expected IPO on December 16
IPO filing
Trivago, Expedia's (EXPE) German hotel booking site, filed for an IPO in the United States on November 14, 2016. Its American depositary receipts (or ADRs) will be listed under the symbol TRVG on the NASDAQ. The IPO will be filed through a holding company, Travel BV.
Trivago plans to have two classes of shares. Class A shares are currently held by Trivago's management, including Rolf Schroemgens, Peter Vinnemeier, and Malte Siewert. These will be available for sale to the public under the Trivago IPO. Class B shares are held by Expedia and will not be available for sale.
Article continues below advertisement
Expected date and other IPOs
The expected date for the Trivago IPO is Friday, December 16. This will most likely be the last IPO of 2016.
Other expected IPOs for December 2016 include WildHorse Resource Development, an energy company, and TiGenix, a stem cell therapy specialty company. WildHorse Resource Development's expected IPO date is December 14 and TiGenix's is December 15.
Series overview
In this series, we'll look at Trivago's potential IPO pricing. We'll discuss how Trivago intends to use the proceeds of the IPO, the buzz surrounding its ads, and the key points about Trivago you should know before considering an IPO investment. We'll wrap up the series with a discussion on IPO market performance for 2016.
You can also read our previous coverage on the Trivago IPO in Trivago Filed for Initial Public Offering: What Does That Mean?