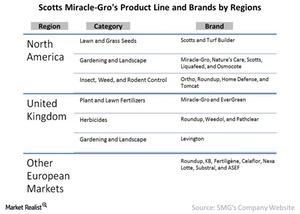 Overview: Scotts Miracle-Gro's Brands in Different Countries
Categories of products
The Scotts Miracle-Gro Company (SMG) has several products under its umbrella. In North America, which includes the United States and Canada, the company offers products to lawn and garden markets in the consumer segment. Some of the brand names include Scotts, Turf Builder, Miracle-Gro, Nature's Care, and Ortho. The company is also an exclusive distributor of Monsanto's (MON) Roundup brand of products. Fafard is a brand available to customers in Canada and the eastern United States (VEGI).
Article continues below advertisement
Europe and other markets
The company also sells the Roundup herbicide brand in the United Kingdom. Besides herbicides, the company also sells fertilizers, seeds, and gardening materials to consumers in the region.
In other European markets, which include Germany, France, Luxembourg, Austria, the Netherlands, and Belgium, the company offers similar product categories under the brands KB, Celaflor, Nexa Lotte, and Substral. Some of these brands are also offered in Australia.
Market penetration
While most of the above brands target customers with lawns and large outdoor spaces, the company has also forayed into serving customers with smaller spaces in urban areas. Central Garden & Pet (CENT), Seaboard (SEB), and Spectrum Brands (SPB) are also active in urban markets. Read on to learn more about SMG's key brands and product lines.