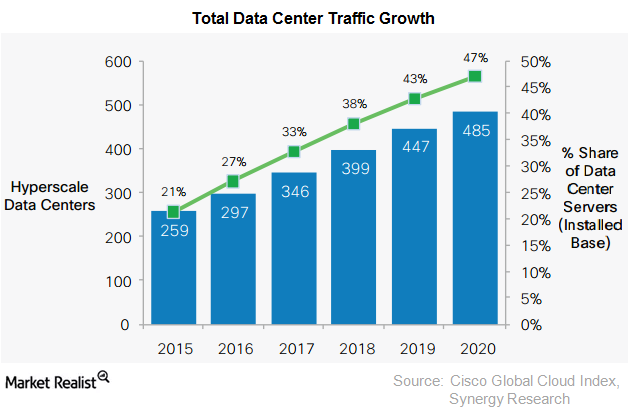 Why Oracle, Amazon, and Microsoft Are Investing in Data Centers
Technology players to ramp up investments in data centers
As the IT (information technology) space is engulfed by the SMAC (social, mobile, analytics, and cloud) revolution, technology players have poured in billions of dollars to increase their scale and competitiveness in the cloud space.
In fiscal 2Q17, Oracle (ORCL) spent ~$1 billion to build up data centers, as evidenced by the company's increased capital expenditure. Oracle's capex rose 65% to ~1.1 billion in fiscal 2017.
Article continues below advertisement
In November 2016, IBM (IBM) announced plans to add four new cloud data centers integrated with cognitive intelligence in the United Kingdom (EWU). In early 2016, RBC Capital reported that Amazon (AMZN), Microsoft (MSFT), and Google (GOOG) collectively spent ~$26 billion in capex in 2015. Google alone invested ~$10 billion in building its cloud operations in 2015. The majority of this capital went toward cloud and data centers.

Hyperscale data centers
Together, Amazon(AMZN), Microsoft, IBM, and Google account for more than half of the cloud space. Commenting on these four players' dominant position, John Dinsdale, research director at Synergy Research Group, said, "What marks them out as different is their global presence, marketing muscle, ability to fund huge investments in hyperscale data centers and, in most cases, a determination to succeed in the market."
According to the Cisco (IBM) Global Cloud Index and as the above chart shows, hyperscale data centers are expected to grow from 259 in 2015 to 485 by 2020. They will amount to 47% of all installed data center servers by 2020. In other words, it is forecast that they will amount 83% and 86% of the public cloud server installed base and public cloud workloads, respectively in 2020, which explains software companies' billion-dollar investments towards data centers and IT infrastructure.