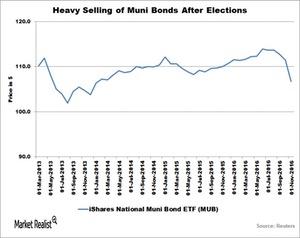 Is There an Opportunity in a Muni Sell-Off?
VanEck
The Bottom Line
If Trump's plan to reduce corporate tax rates comes to pass, it will likely force a reevaluation of the municipal bond market, potentially resulting in higher muni bond yields. The president-elect's plans with regard to Puerto Rico's debt crisis remain largely unknown, although roughly $70 billion worth of municipal bonds hangs in the balance. On the supply side, massive infrastructure spending would probably be financed in large part through new municipal bond issuance on an expanded scale, increasing supply substantially.
I believe we have a while to wait to see what impact, if any, Trump will have on the municipal bond market, but the picture may come into focus once he actually begins to attempt passing legislation.
Article continues below advertisement
Market Realist
Potential headwinds for muni bonds
As you can see in the above graph, municipal (or muni) bonds (SMB) (MLN) (SHM) have taken a hit following a heavy sell-off in the last three months. The iShares National EMT-Free Muni Bond (MUB) fell substantially following the US presidential election.
Going forward, if personal income tax rates were to fall and additional infrastructure spend was partly financed in municipal markets, it could be marginally negative for muni performance.
Is this an opportunity in disguise?
What's the takeaway here? Every sell-off brings a good long-term buying opportunity for investors. The muni market has experienced periodic sell-offs over the last two decades and produced good investment opportunities. The previous fall in munis occurred in 2013 when the Federal Reserve was cutting back on some of its stimulus programs. That gave way to another rally in bond values in 2014 as yields fell again.
With their high yields, low prices, and tax-efficient returns, muni bonds (HYD) (ITM) could be available to investors at a dirt cheap rate in the coming months. But investors shouldn't get caught up in the monthly volatility of bond returns.
David Hammer of Pimco said, "Since 1982 the top federal tax rate has changed eight times, up and down, without resulting in lasting shifts in the yields muni investors demand compared with yields on taxable bonds."