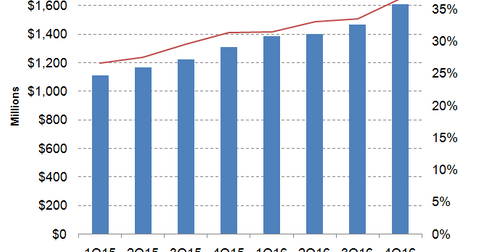 Adobe's Financial Performance in Fiscal 4Q16
By Anne Shields

Updated
Adobe's bottom-line growth exceeds its top-line growth
Earlier in this series, we discussed Adobe's (ADBE) better-than-expected fiscal 4Q16 results. As Adobe has successfully managed to transition to a subscription-based business model, these resulted were not surprising.
In fiscal 4Q16 and fiscal 2016, Adobe's Digital Media segment contributed 67% toward the company's overall revenues. This segment was followed by Digital Marketing, which contributed 30.4% toward the company's revenues. Print and Publishing only contributed 3% to the company's fiscal 4Q16 revenue.
Article continues below advertisement
Adobe's bottom-line growth continued to exceed its top-line growth. Although its revenue grew 23% to $1.6 billion in fiscal 4Q16, its non-GAAP[1. generally accepted accounting principles] net income grew 28% to $552.5 million. The chart below shows that Adobe has managed to grow not only its revenues but also its operating margins.
A reduction in operating expenses, primarily S&M (sales and marketing) and G&A (general and administrative) expenses, led to an expansion in Adobe's margins. Respectively, S&M and G&A fell from 33.8% and 16.9% in fiscal 4Q15 to 30.8% and 16% in fiscal 4Q16.
Cash, cash flow, and debt position
Adobe held cash and short-term investments worth $4.8 billion on December 2, 2016. It has debt of $1.9 billion, which is entirely long term.
Adobe's cash flow from operations stood at ~$696 million and $2.2 billion in fiscal 4Q16 and 2016, respectively. Its deferred revenue grew 36% on a year-over-year (or YoY) basis to ~$2.0 billion, on the back of consistent double-digit growth in its subscription revenues.
In fiscal 4Q16, Adobe bought approximately 3.2 million shares, returning ~$331 million in cash to its shareholders. Share buybacks are preferred by tech companies in particular because they reduce the amount of shares outstanding and increase EPS (earnings per share).
Tech players hold almost 50% of the overall cash held by US non-financial companies. With billions of corporate cash held overseas, technology investors are likely to be rewarded by stock repurchases. According to FactSet, technology players Apple (AAPL), Microsoft (MSFT), and Oracle (ORCL) were among the top ten companies to spend the most on stock buybacks in the trailing 12-month period.