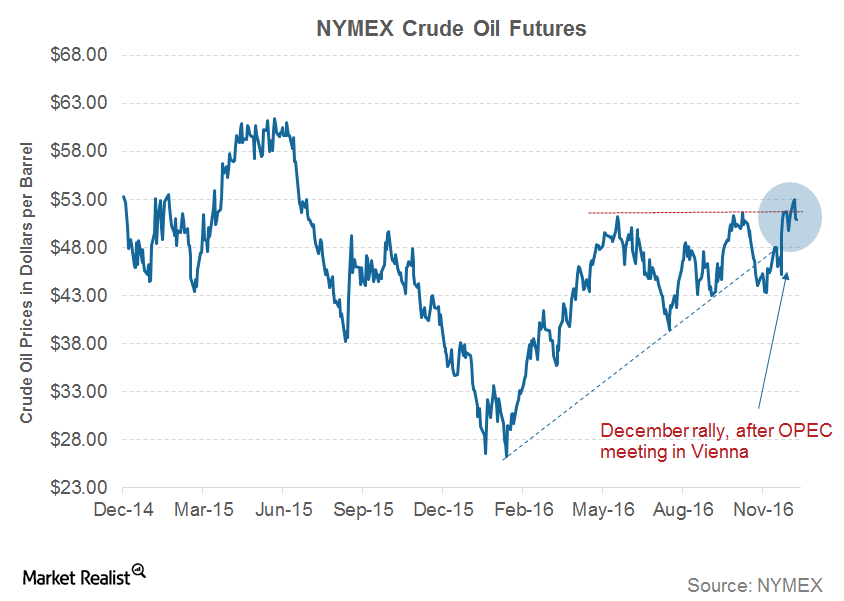 How the Recent Rise in Oil Prices Could Affect the Auto Industry
Crude oil gains in November
In November 2016, the WTI (West Texas Intermediate) crude oil prices traded on a bullish note after witnessing a 2.9% rise in the previous month. Crude oil futures rose 1.5% in November.
As of December 15, 2016, crude oil futures prices have gained about 8.8% in 4Q16 so far. Last month, OPEC (Organization of the Petroleum Exporting Countries) decided at its Vienna meeting to cut oil production by 1.2 MMbpd (million barrels per day), which could be the primary reason for these gains in oil prices.
Article continues below advertisement
Article continues below advertisement
Impact on the auto industry?
Despite the recent boost in the adaptability of electric vehicles and alternative-fuel-powered vehicles, gasoline combustion engines account for the majority of global automobiles.
When we look at the recent trend in US auto sales, we see a sharp rise in the demand of pickup trucks and utility vehicles. All major automakers (VCR) like GM, Ford, and Fiat Chrysler (FCAU) have benefitted from this trend. The sales growth of these medium-weight vehicles outperformed sales growth of the lightweight car segment in 2015. One of the key drivers behind this sales trend was lower oil prices. Therefore, sustainable gains in crude oil prices could hurt the demand for heavyweight vehicles.
Note that medium-weight vehicles such as pickup trucks and utility vehicles tend to have higher margins for automakers as compared to margins from lightweight cars. This is primarily because medium-weight vehicles typically are sold at a higher price.
Therefore, a consistent recovery in oil prices may hurt the demand for pickup trucks and utility vehicles going forward. In the US auto market, Ford and GM are the top two automakers in the pickup truck segment. In contrast, falling oil prices can be seen as a negative factor for electric vehicle makers including Tesla (TSLA).
Read on to the next part where we'll look at the recent industrial production data and explore what it means for the auto industry.