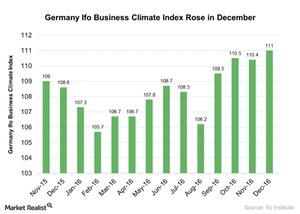 German Ifo Business Climate Improved in December
By Sarah Sands

Updated
German Ifo business climate
The Ifo Business Climate Index for Germany (EWG) improved in December 2016. It is at 111 in December compared to 110.4 in November 2016. It beat market expectations of 110.7. The index measures the sentiment of entrepreneurs about the current business climate and expectations for the next six months.
Article continues below advertisement
Economic impact
Improved performance of this index in December indicates that business sentiment improved in December in comparison to November. The confidence of manufacturers and wholesalers improved, while the confidence of retailers remained unchanged in December.
The index has seen improved performance for the last three months. The improvement in business sentiment in December is mainly due to the increase in domestic demand. The Eurozone's (HEDJ) (EZU) (VGK) (IEV) business sentiment also improved in December.
Investor sentiment levels indicated panic in July as investors expected trade flows to decline between the United Kingdom and Germany (EWG). Germany is one of the United Kingdom's largest trade partners. Investors expected that Brexit could affect trade flows between the United Kingdom and all the major economies of the Eurozone.
Billionaire investor and activist fund manager Bill Gross believes Brexit will not only affect trade flows between the United Kingdom and the Eurozone but will also hamper international trade flows. The fall in international trade flows will mark the so-called "End of Globalization." Read Bill Gross Thinks Brexit Marks the 'End of Globalization' to learn more.
In the next part of this series, we'll analyze the performance of the US flash services PMI in December 2016.