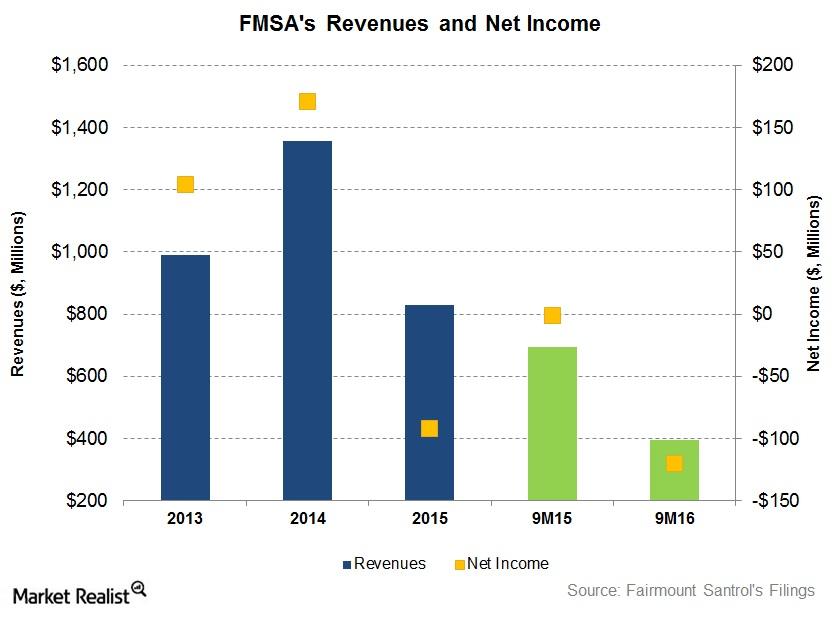 Are Fairmount Santrol's Fundamentals on a Recovery Path?
By Alex Chamberlin

Dec. 9 2016, Updated 8:06 a.m. ET
Fairmount Santrol's fundamentals: Revenue
During the first nine months of 2016, Fairmount Santrol Holdings' (FMSA) revenue fell 43% compared to the same period in 2015. From 2014 to 2015, FMSA's revenue fell 39%. In comparison, Baker Hughes's (BHI) revenue fell 36% from 2014 to 2015. Read more about BHI's recent asset sell-off in Market Realist's Baker Hughes Makes Another Deal: An OFS Newco Explained.
Article continues below advertisement
Why did FMSA's revenue fall?
During the first nine months of 2016, FMSA's Proppant Solutions segment registered a steep revenue fall of 50% compared to the first nine months of 2015. The segment accounted for 77% of FMSA's revenue in the period. The company's Industrial & Recreational Products segment's revenue was steady during the period. FMSA's Proppant Solutions segment's revenue fell for the following reasons:
fall in coated proppant sales volumes following lower drilling activity
lower average selling prices for FMSA's proppant solutions
Positive factors benefiting FMSA's performance
Upstream companies are increasingly using finer well designs and hydraulic fracturing techniques to increase energy production efficiency. This has increased the demand for proppants by increasing the amount of proppants used per frac stage. This could lead to higher revenue for FMSA. 
As we've discussed, the rig count has begun to move upward in North America, leading to higher energy production and higher overall demand for oilfield services products.
Analysing FMSA's net income
Fairmount Santrol's net income fell to -$120.2 million in the first nine months of 2016, compared to ~-$1.3 million in the first nine months of 2015. Its earnings deteriorated primarily as a result of $90 million in mineral reserves and other long-lived asset impairment charges following energy price weakness.
From 2014 to 2015, FMSA's net income fell to -$92 million from $170.5 million. This was primarily due to $82 million worth of restructuring and impairment charges in 2015. By comparison, Schlumberger (SLB), the largest US oilfield services company in the United States, recorded a 62% fall in its 2015 net income compared to 2014.
FMSA makes up 0.01% of the iShares Russell 2000 Value ETF (IWN). Read more about SLB in Market Realist's Ready to Soar: What Can Investors Expect from Schlumberger?
Next, let's discuss Fairmount Santrol's free cash flow.