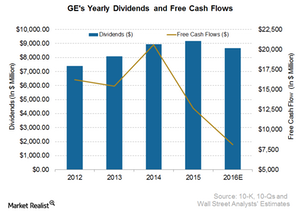 Does GE Have Enough Free Cash Flow to Support Dividend Growth?
General Electric's dividend payout
General Electric's (GE) dividend CAGR (compound annual growth rate) in the last seven years ended in 2015 was 7.1%. This single-digit growth wasn't that impressive. The company's 4Q16 dividend of $0.24 per share translates to a dividend payout ratio of 70%.
The dividend payout ratio is the percentage of GE's net income paid out as a dividend. Historically, GE's dividend payout ratio has been ~50%.
Article continues below advertisement
General Electric's free cash flow
Free cash flow is calculated by deducting capital expenditure from operating cash flow. Normally, a company uses its remaining cash to pay dividends, buy back shares, or reinvest in its business. A quick look at the above graph shows that GE's free cash flow has fallen from $20.5 billion in 2014 to $8.1 billion in 2016. The company's cash flow from operations has fallen over the last four quarters, whereas its capital expenditure has been range-bound during the same period.
Even for the next four quarters, Wall Street analysts don't expect GE's free cash flow to rise substantially. The company's overall 2016 free cash flow is expected to remain at $8.1 billion. From this expectation, we can conclude that GE's present level of free cash flow doesn't support its dividend payments.
Article continues below advertisement
GE's dividend obligations
A detailed study of GE's operating cash flow reveals that its operating cash flow has fallen considerably in the last four quarters. This fall could spell doom for pure dividend investors hoping for high-dividend growth by GE. Note that GE's overall reorganization and business closures have, to an extent, impacted its operating cash flow.
Given headwinds related to global economic growth, GE may be tempted to slightly increase its dividend per share in the next few months. In addition, a strong dollar will likely affect the company's out-of-US revenue. In conclusion, the short-term dividend growth outlook remains dim.
ETF investment
There are nearly 105 ETFs with General Electric in their portfolios. Investors interested in indirectly holding GE may want to invest in the iShares Global Industrials ETF (EXI). GE makes up 7.6% of the portfolio holdings of EXI. Other major industrial names included in EXI are 3M Company (MMM), Boeing (BA), Siemens (SIEMENS), and Honeywell International (HON).
In the next article, we'll compare GE's forward dividend yield with those of its close peers.