Inside Cypress's Strategy to Improve Its Gross Margin
Cypress reported strong revenues on the integration of Broadcom's wireless IoT business, which improved its gross margin until the Spansion merger in 1Q15.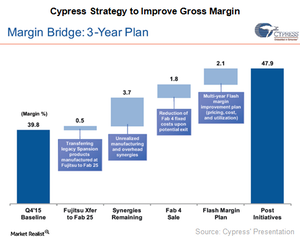 Lean inventory initiative
Cypress Semiconductor (CY) reported strong revenues driven by the integration of Broadcom's (AVGO) wireless IoT (Internet of Things) business. The increased revenue also improved the company's gross margin, which took a major hit after the Spansion merger in fiscal 1Q15 because the latter brought with it a huge inventory.
Fiscal 3Q16 is an important quarter for Cypress, even in terms of profit margins, because the company completed its lean inventory initiative and increased factory utilization. Under its lean inventory initiative, Cypress lowered its production and put the existing inventory in the distribution channel. After six quarters, the company has managed to sell all extra inventory worth $160 million and start producing more goods.
Article continues below advertisement
Article continues below advertisement
Gross margin
In fiscal 3Q16, Cypress reported a non-GAAP (generally accepted accounting principles) gross margin of 40.5%, which is higher than the 37.8% it reported in fiscal 2Q16. The margin was driven by a rise in factory utilization from 52% in fiscal 2Q16 to 56% in fiscal 3Q16. Another major factor that impacts the margin is the right product mix.
For fiscal 4Q16, Cypress expects its gross margin to fall slightly to 40% as an improvement in factory utilization to 60% would be more than offset by the roll-off of the ~$6.3 million pre-merger licensing revenue and reduced demand from seasonal weakness.
However, a 40% gross margin is way lower than Xilinx's (XLNX) and Integrated Device Technology's (IDTI) gross margins of 69.6% and 57%, respectively. Cypress plans to improve its gross margin to 47.9% over the next two years.
Gross margin improvement strategy
Cypress aims to adopt a step-by-step approach to improving its gross margin. The company has appointed Executive Vice President Dana Nazarian specifically to improve the gross margin. The company is also looking to sell its Fab 4 in Minnesota, thereby reducing the fixed overhead cost associated with it.
Cypress has completed the conversion of Fab 25 to manufacture its legacy products. Until now, the company manufactured 30% of its programmable chips at Fab 25. Now, it would transfer 100% production of its programmable chips to this fab, thereby improving factory utilization rate.
Cypress will continue to realize the cost synergies brought by the Spansion merger going forward as well. In fiscal 3Q16, Cypress realized savings of $13.4 million in the cost of goods sold. In the future, it will look to reduce the cost of producing Flash memory products. All these efforts should help Cypress achieve a gross margin of 47.9% by fiscal 4Q18.
Cypress is also undergoing restructuring to refocus its operating expenses in core growth areas. We'll look into this further in the next part of the series.