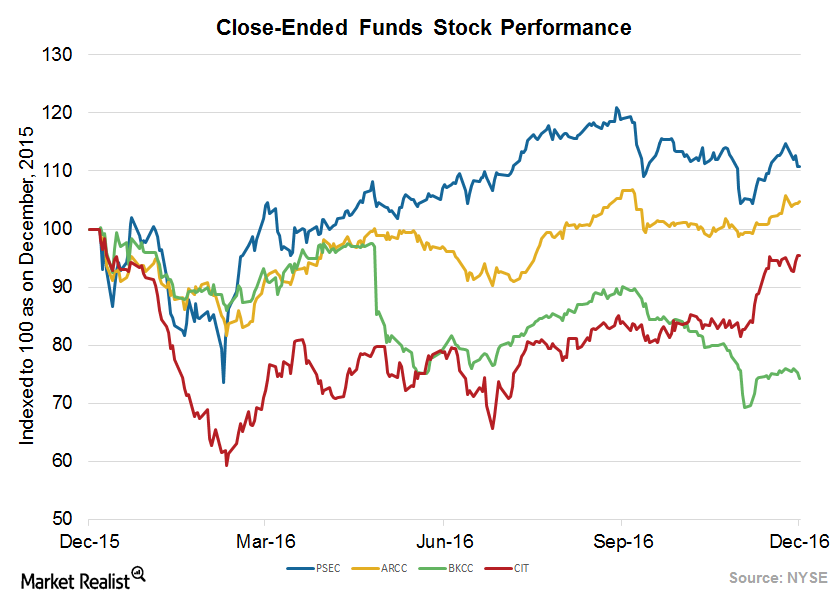 Closed-End Funds Are Affected by Originations, Rates
Closed-end managers
Closed-end asset managers (PSP) are expected to see subdued earnings in 4Q16 as originations rise more slowly. Expectations of an interest rate hike could increase the cost of keeping higher leverage in upcoming quarters.
Portfolio yields are expected to remain in line with the previous quarters as companies target second lien and retail loans to command higher rates. Investors tend to give premiums to those stocks that have low-cost debt or lower leverages on their books.
Article continues below advertisement
Article continues below advertisement
Closed-end managers deploy money in middle market companies engaged in businesses across sectors by raising capital through share issuances. Major players in the industry include Prospect Capital (PSEC), Apollo Investment (AINV), Ares Capital (ARCC), CIT Group (CIT), BlackRock Capital Investment (BKCC), and United Rentals (URI).
Major drivers for evaluating the performances of closed-end funds include originations, costs of funds, yields on loan books, leverages, and operating expenses.
September 2016 performance
In 3Q16, Prospect Capital missed Wall Street analysts' consensus net income estimate of $0.24 per share with net income of $0.22 per share. Ares Capital posted EPS (earnings per share) of $0.43, beating Wall Street analysts' consensus estimate of $0.39. Apollo Investment posted EPS of $0.18, beating Wall Street analysts' consensus estimate of $0.17.
Closed-end companies reward investors primarily through dividends carrying yields of 10%–16% and dividend payout ratios of 60%–100%.
Stable yields
In the past few quarters, there's been a revival in yields due to an expectation of a rate hike, deployments toward second lien investments, structured lending, and retail loans.
In this series, we'll study how these closed-end funds have been performing and what to expect of their performances in upcoming quarters. We'll also study the impact of a potential rate hike in 4Q16 on yields, originations, and performance.
Let's start with a look at how closed-end funds have been improving yields.