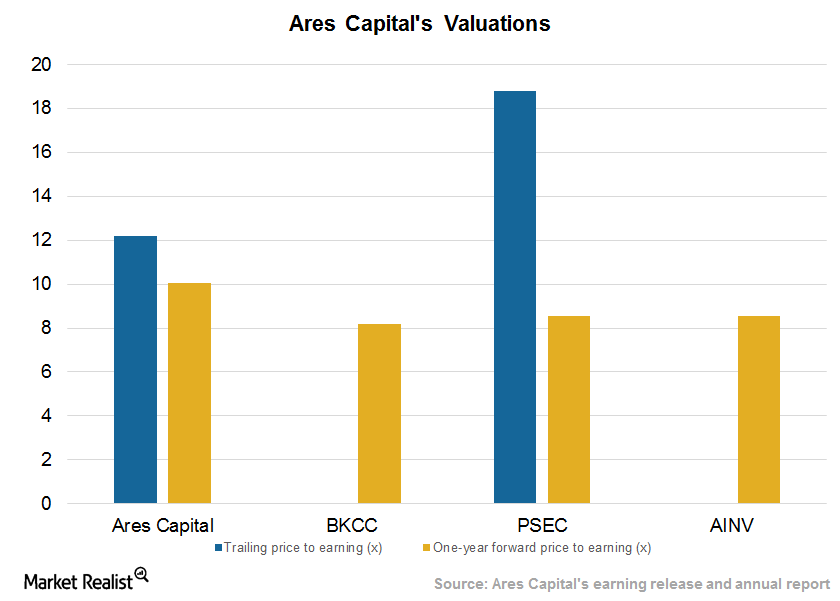 AINV's Valuation Fair, Stock Can Rise on Earnings Surprise
Rewarding shareholders
Apollo Investment's (AINV) operating performance has stabilized in recent quarters due to reduced exposure in the energy space as well as the deployment of funds toward less risky investments. The company is working on portfolio changes, recapitalization, reducing risk, and improving returns.
In order to improve its liquidity and dry powder position, Apollo Investment (AINV) decided to reduce its dividend to $0.15 in fiscal 2Q17 compared to $0.20 in fiscal 2Q16. This implies a dividend yield of 10%, in line with other major closed-end funds. AINV's competitors had the following yields:
Together, these companies form 2.5% of the PowerShares Global Listed Private Equity ETF (PSP).
Article continues below advertisement
Repurchases
In fiscal 2Q17, Apollo Investment (AINV) repurchased 3.1 million shares at a weighted average price per share of $5.90 for a total cost of $18.3 million. The company has expanded its repurchase program by $50 million, resulting in total available cash of $150 million for repurchases. In November 2016, the company repurchased an additional 2.2 million shares for an aggregate value of $13.1 million.
In fiscal 2016, Apollo Investment repurchased 10.6 million shares at a weighted average price per share of $5.90 for a total cost of $62.4 million. The repurchases and allocation reflect the company's confidence in its long-term performance.
Fair valuations
Currently, Apollo Investment (AINV) is trading at 8.5x on a one-year forward earnings basis. Its peers are trading at 8.8x. Historically, the company has traded at a discount due to its quality portfolio and unrealized losses. Investors tend to give a higher premium to closed-end companies that garner higher yields for a given level of a risk with reasonable leverage on their balance sheets.
After the Federal Reserve raised interest rates in 4Q16, yields on debt holdings are expected to improve over the next few quarters, which could be beneficial for investment management firms. Apollo Investment is taking a cautious approach on fresh fund deployments and is consistently exiting the energy space.