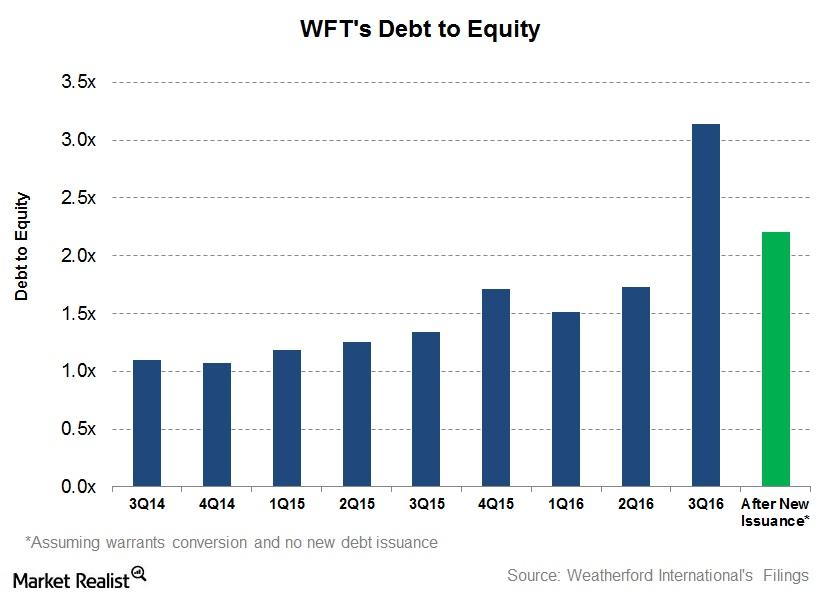 Weatherford International Issues Stocks Again
Weatherford International issues stocks
On November 16, Weatherford International (WFT), an oilfield equipment and services company, disclosed that it issued 84.5 million ordinary stocks. The stocks, priced at $5.40 each, are expected to raise $456 million share capital. Based on the company's closing stock price of $5.14 on November 15, the new stocks were issued at a 5% premium.
Article continues below advertisement
Weatherford issues warrants
In addition to ordinary shares, on November 16, Weatherford International agreed to issue warrants. The warrants can be used to purchase 84.5 million ordinary shares. The shares, when exercised, can raise another $543 million share capital. Investors may note that warrants are financial derivatives. A warrant gives its holders the right, but not the obligation, to buy or sell the underlying asset at a pre-determined price at or before the rights expire.
Will it ease the debt-to-equity ratio?
Weatherford International's DE (debt-to-equity) ratio, which reached 3.1x in 3Q16, it expected to fall to 2.2x, assuming all warrants converting into stocks and before accounting for the new debt issuance. A lower DE ratio indicates decreased riskiness.
Article continues below advertisement
What's the total value of the issuances?
Together, the issuance of ordinary shares and warrants can potentially raise ~$1 billion share capital for Weatherford International. As of September 30, Weatherford International's total shareholder equity was ~$2.4 billion. On the same date, shareholders' equity for Schlumberger (SLB), Weatherford International's larger market cap peer, was $42.5 billion. On the same date, shareholders' equity for Halliburton (HAL) was $9.7 billion, while Baker Hughes's (BHI) equity stood at $13.2 billion. Read Are Oilfield Service Giants Making a Comeback? to learn how oilfield equipment and services companies stack up.
How much equity did Weatherford International raise in 2016?
Before the new issuance, Weatherford International issued 115 million ordinary shares for total proceeds of $623 million in 2016. In June, the company issued exchangeable notes worth ~$1.3 billion. Exchangeable notes are debt securities that can be converted into shares. Weatherford International accounts for 0.19% of the ProShares Ultra Oil & Gas ETF (DIG).
Why did Weatherford International raise equity?
Weatherford International plans to use the proceeds from this offering for various corporate purposes including debt repayment. Weatherford International also issued new debt on November 15. We'll discuss the new debt in the next part.