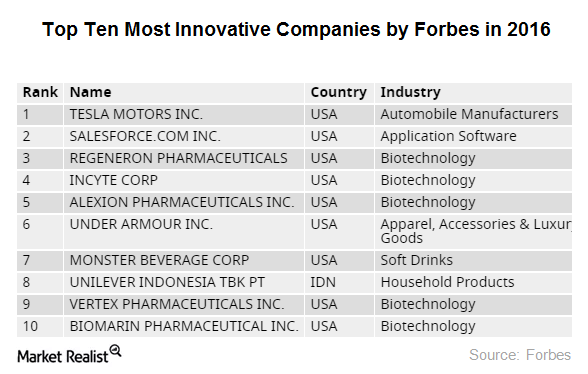 Why Salesforce Holds the Title of Most Innovative Company
Salesforce: the most innovative company for straight six years
Previously in this series, we discussed Morgan Stanley's (MS) optimism toward Salesforce (CRM) and its growth prospects. In 2016, Salesforce has continued to report double-digit growth and was ranked as the most innovative company by Forbes for the sixth straight year.
Forbes considers and analyzes companies' seven-year financial data to arrive at its list of innovative companies. It goes without saying that spending on R&D (research & development) drives companies' success in innovation and breakthrough technologies.

Article continues below advertisement
Salesforce's focus on AI to boost innovation quotient
Salesforce has always used its yearly Dreamforce conference as a platform to launch new offerings. In 2016, it announced the launch of "Salesforce Einstein," an AI (artificial intelligence) platform. According to Salesforce, Einstein is "the world's first comprehensive artificial intelligence platform for CRM."
The Einstein platform has its foundation in various acquisitions that the company has made in the past, including RelateIQ, MetaMind, Implisit Insights, PredictionIO, and Tempo. Salesforce stated: "We've been able to stitch all this together and focus on AI. AI is the next wave of our industry and has resulted in a machine learning team of more than 175 data scientists who have built this amazing Einstein platform."
Meanwhile, IBM (IBM) and Microsoft (MSFT) are also trying to capture AI market share. IBM has invested billions of dollars in machine learning and AI through partnerships and acquisitions to develop its Watson platform. Microsoft acquired Genee to boost the capabilities of its virtual personal assistant, Cortana, and make a move in AI space.
Lynne Parker, Director of the Division of Information and Intelligent Systems for the National Science Foundation, stated that cognitive computing "is often a complete architecture of multiple AI subsystems that work together." According to IDC (International Data Corporation), cognitive computing is "one of six Innovation Accelerators that will drive digital transformation by opening new revenue streams, creating information-based organizations, and changing the way work is performed."
Salesforce's timely interest in AI and its integration with its CRM (customer relationship management) offerings will thus provide a boost to its growth.