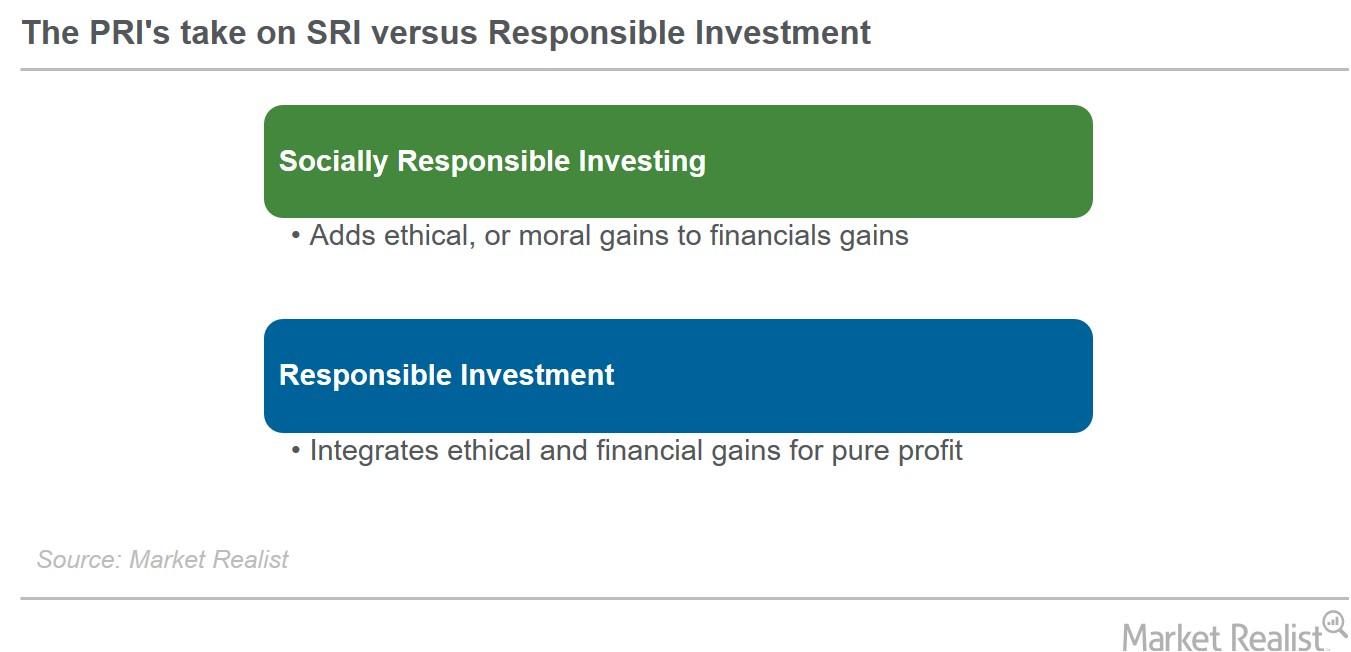 Responsible Investment versus Socially Responsible Investing
By David Ashworth

Nov. 20 2020, Updated 1:20 p.m. ET
What is the PRI?
The Principles for Responsible Investment (or PRI) calls itself "the world's leading proponent of responsible investment."
Supported by the United Nations, the PRI "works to understand the investment implications of environmental, social and governance [ESG] factors and to support its international network of investor signatories in integrating these factors into their investment and ownership decisions."
Article continues below advertisement
Responsible investment versus socially responsible investing
The PRI states that there's a difference between responsible investment and socially responsible investing (or SRI). SRI, also known as green investing, impact investing, or ethical investing, aims to combine financial gains with ethical returns.
In contrast, responsible investment can be pursued even by an investor whose sole aim is financial profit. This is because the PRI "argues that to ignore ESG factors is to ignore risks and opportunities that have a material effect on the returns delivered to clients and beneficiaries."
According to the PRI, it follows six principles for responsible investment:
"We will incorporate ESG issues into investment analysis and decision-making processes."
"We will be active owners and incorporate ESG issues into our ownership policies and practices."
"We will seek appropriate disclosure on ESG issues by the entities in which we invest."
"We will promote acceptance and implementation of the Principles within the investment industry."
"We will work together to enhance our effectiveness in implementing the Principles."
"We will each report on our activities and progress towards implementing the Principles."
There are mutual funds (PARWX) (DSEFX) and ETFs (ESGG) (ESGW) (HECO) available that can help you to engage in socially responsible investing. However, according to the PRI, responsible investment doesn't require investment in specialized and focused products (RODI) (ESGE), as this approach brings additional data analysis into the usual financial analysis approaches.
Regardless of their differences, both SRI and responsible investment have ESG criteria at their cores. Let's look at each component of ESG, starting in the next article.