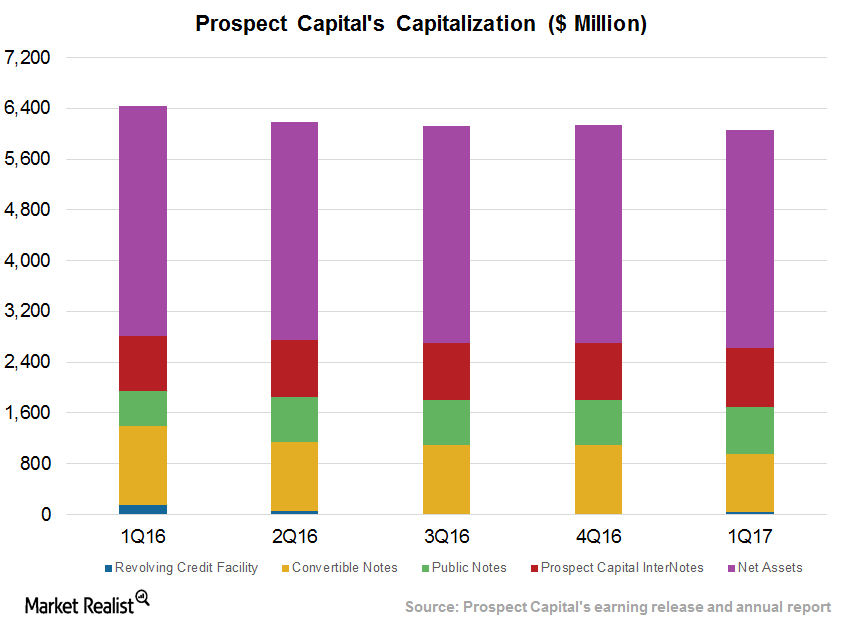 Prospect's Leverage Rises on Higher Origination in Fiscal 1Q17
Leverage rises
Prospect Capital (PSEC) has been operating at higher leverage to take advantage of low rates. But the Fed is expected to raise interest rates in calendar 4Q16, which could result in a rise in the cost of capital.
Notably, Prospect's fiscal 1Q17 net debt-to-equity ratio rose to 76.3% from its fiscal 4Q16 debt-to-equity ratio of 69.5%. This was mainly due to higher deployments and investments. The company repaid $167.5 million in convertible notes in August 2016 at maturity. For the remaining fiscal year, it has liability maturities of $10 million.
Article continues below advertisement
Prospect can look at the monetization of select investments as well as equity fund raising options for fund raising. But as Prospect's stock prices have remained weak, the company is not looking at equity markets for liquidity, and such an option seems less likely due to its valuation and net asset value discounts. Also, Prospect should soon be able to take advantage of lower interest rates and generate higher returns for its equity holders.
By comparison, Prospect's peers generated the following returns on equity deployment:
Together, these companies make up 1.8% of the PowerShares Global Listed Private Equity ETF (PSP).
Strong book
Prospect Capital's cost of debt was approximately 5.0% in fiscal 1Q17, as compared to 6% one year previously. In August 2016, Prospect amended its revolving credit facility to remove some of the restrictions in the definition of an eligible loan. The revolving credit facility continues to carry an investment-grade rating of Aa3 with Moody's.
Prospect has also diversified its counterparty risk by bringing in 21 institutional lenders for its facility as of September 30, 2016—as compared to five lenders in 2010. The company had $4.8 billion of unencumbered assets on its balance sheet, making up almost 76% of its total assets. PSEC's balance sheet assets have risen marginally to $6.26 billion as of September 30, 2016, as compared to $6.24 billion on June 30, 2016. Its net assets stood at $3.4 billion on September 30, 2016.
Now let's discuss Prospect's fund-raising strategies.