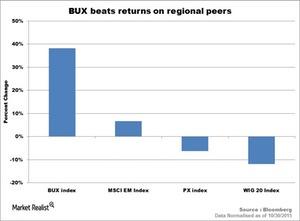 Opportunities in Emerging Market Credit Developments
Emerging Markets Credit Developments
Amid the focus on developed market central bank actions, there were several notable credit stories in emerging markets. After the political events of the summer, Turkey lost its investment grade status following a downgrade by Moody's Investors Service. Some forced selling of Turkish hard currency sovereign bonds will likely occur due to its removal from investment grade indices at the end of October. Hungary, by contrast, regained investment grade status following an upgrade by Standard & Poor's (S&P), which may support additional inflows in coming months. Turkish spreads widened while spreads on Hungarian sovereign bonds tightened. We continue to have conviction in higher quality hard currency sovereign bonds, and believe they can offer an attractive yield pickup versus core investment grade fixed income sectors, without excessive risk.
Article continues below advertisement
Article continues below advertisement
On the corporate side, Petroleos de Venezuela S.A. (PDVSA) was downgraded further into junk territory by S&P following the announcement of a proposed debt swap that could be characterized as a distressed exchange. Although a successful swap would buy time by reducing 2017 maturities, clearly the PDVSA and sovereign bonds continue to price in a very high risk of default with yields ranging between 15% and 50% (annualized for shorter maturity bonds in the latter case). The high current yields on the bonds coupled with a price recovery this year as Venezuela continues to apply band aids to its longer term structural problems, have made the country a top performer in the hard currency space year-to-date. In addition, Brazil's Petróleo Brasileiro S.A. (Petrobras) announced a new spending plan through 2021 that aims to regain investment grade status by reducing leverage, primarily through an ongoing asset sale program.
Market Realist – Hungary outperformed its regional peers
Strong investor interest in emerging market debt (EMLC) (HYEM) has continued despite adverse political and economic issues in some countries. Hungarian stocks rose to their highest level in more than nine years as the country's return to an investment-grade credit rating helped it benefit from outflows triggered by Poland's heightened political risk.
Article continues below advertisement
Market Realist – Turkey's turbulent times
The benchmark BUX index in Budapest has soared ~38 % in the past year to trade at its highest level since July 2007, outperforming Poland and the Czech Republic as well as the MSCI emerging-market gauge. The PX Index and MSCI EM index, in the same period, returned -6.24 % and 6.75%, respectively.
Ongoing domestic political tension and geopolitical conflict in Turkey have severely affected its economy. The Turkish lira hit recent record lows after data showed a much wider trade deficit in October as exports fell. Plus, falling household consumption and weak tourism are aggravating the problem.
Market Realist – Venezuelan government bonds have outgained the broader market
Investors have flocked to emerging market bonds, as they see very little alternative investment opportunities elsewhere—especially in developed countries. Though the risk is high in some emerging markets, they offer attractive yields in a market flooded with negative yields. Venezuela's sovereign bonds are the best performers in emerging markets this year, delivering investors a return of 46% for the week ending October 22. Many investors, however, may be uncomfortable with the uncertainty and volatility associated with distressed countries like Venezuela. The country is plagued with widespread hunger, skyrocketing infant mortality, and 500% inflation.