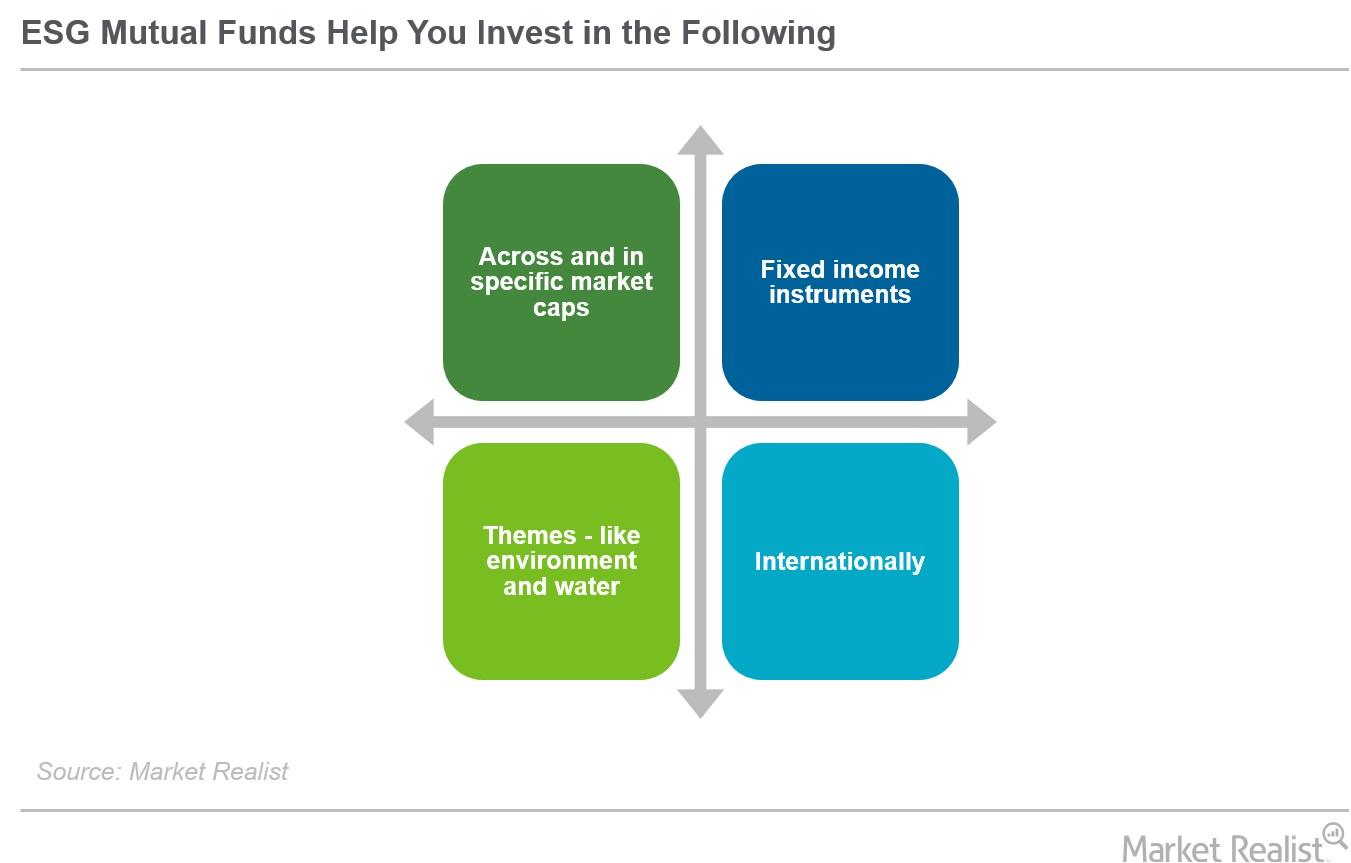 Mutual Funds' Role in Socially Responsible Investing
Do you want to make a socially responsible investment?
In the previous article, we looked at a few indexes and ETFs (ORG) (FIA) that invest using the ESG (environmental, social, and governance) criteria. Apart from ETFs, mutual funds can also help you make socially responsible investment choices. Given that mutual funds should be held for the long term and socially responsible investment is inherently long term, these two look like a match!
The Forum for Sustainable and Responsible Investment (or USSIF) notes on its website, "Mutual funds are one of the most dynamic segments within the ESG investing space." Let's look at a few mutual funds that invest in this space.
Article continues below advertisement
Mutual funds that lead to socially responsible investments
The Parnassus Core Equity Fund Investor Shares (PRBLX) is one of the largest mutual funds in this space, with net assets of $12.5 billion in all share classes as of April's end 2016. PRBLX has been around since August 1992 and has a net expense ratio of 0.87%. The fund isn't focused on any particular theme or sector. Instead, it integrates ESG elements when building its portfolio.
The Calvert Equity Portfolio Class A (CSIEX) is similar to PRBLX in the sense that it integrates ESG criteria when picking investments. It was managing assets worth $2.1 billion in all share classes at the end of April 2016, and it was launched in August 1987. It's comparatively expensive, with a net expense ratio of 1.1%.
The Pax Balanced Fund Individual Investor (PAXWX) is a balanced fund that "uses a sustainable investing approach that combines rigorous, fundamental financial analysis with equally rigorous environmental, social and governance [ESG] analysis," according to its website. It was launched in August 1971, making it one of the oldest funds that invests in the socially responsible theme. Its net expense ratio is 0.93%.
Article continues below advertisement
The TIAA-CREF Social Choice Equity Retail Class (TICRX) is unlike the three funds above in that it has a specific inclination toward the social criteria of ESG framework. As of the end of April, the fund, including all share classes, was managing assets worth $2.7 billion. The fund was created in March 2006, and it has a net expense ratio of 0.48%.
The above is just a very small indicative list. Many other funds make socially responsible investments internationally in specific market caps and in fixed-income instruments.
With the United States Department of Labor's Employee Benefits Security Administration allowing pension fund and 401(k) managers to invest in ESG funds due to an October 2015 ruling, the demand for these products has risen. With huge investment managers such as BlackRock having launched products such as the BlackRock Impact U.S. Equity Fund, it's important to watch this ESG product growth space.
Having talked about ETFs (ESGD) (ESGG) and mutual funds that can help you invest socially responsibly, let's now turn our attention to how active mutual fund companies are in dealing with environmental issues regarding the companies they're invested in.