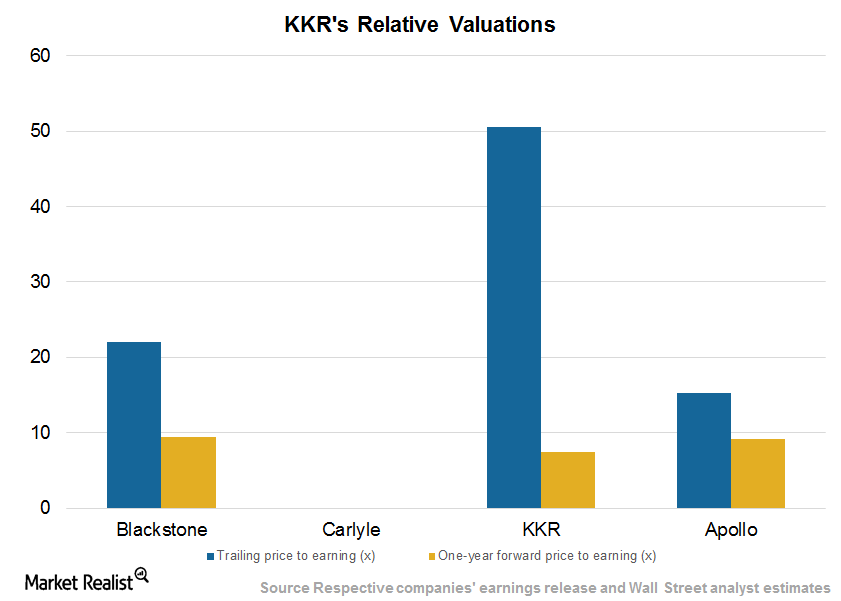 KKR Valuations Fair amid Volatile Performance and Capital Raises
Operating performance
KKR & Company (KKR) expects to post EPS (earnings per share) of $0.41 in 3Q16, reflecting a subdued performance compared to its 3Q15 numbers. The company reported an economic net income of $598 million in 3Q16, mainly due to appreciation in private equity and energy holdings.
The stock has risen 5% in the past quarter, mainly due to improved performance, higher deployments, and distributions.
First Data (FDC) is one of KKR's major holdings. The stock has risen 24% in 3Q16, as compared to a substantial decline in previous quarters. Over the past four quarters, KKR has successfully raised $28 billion across its product offerings. The company deployed $3.7 billion in 3Q16, mainly in private markets across Americas, Europe, and Asia.
KKR declared a dividend of $0.16 per share in 3Q16. This dividend translated into an annualized dividend yield of 4%. Its peers have the following dividend yields:
Together, these companies make up 4.3% of the PowerShares Global Listed Private Equity ETF (PSP).
Article continues below advertisement
Valuations
KKR is valued at 7.5x on a one-year forward earnings basis. By comparison, its peers are trading at 9.3x. The company is trading at a discount, mainly due to weak performance in 1H16 and lower dividend yields when compared with the industry average. KKR's reported AUM (assets under management) reached ~$131.1 billion in 3Q16. Its fee-paying AUM were ~$93.1 billion.
KKR has fallen 11% over the past 12 months due to volatile markets, declining performance income, and unrealized losses on various investments. However, the recent improvement in performance is expected to attract more capital towards the company's existing offerings.
For more details on KKR & Company's business, check out Market Realist's "KKR: The $100-Billion Alternative Asset Manager."