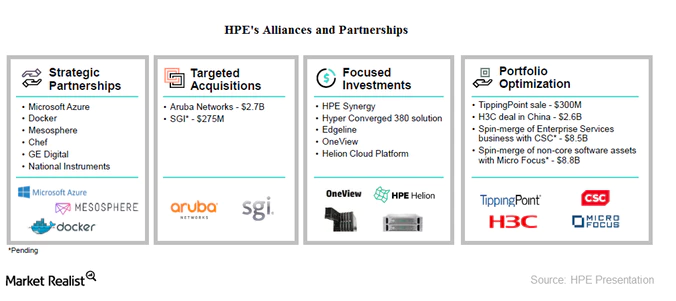 What Are the Key Focus Areas for Hewlett-Packard Enterprise?
Hybrid cloud
Hewlett-Packard Enterprise (HPE) has mentioned that enterprises and customers are shifting toward hybrid cloud, and it aims to simplify this transition. Hewlett-Packard Enterprise offers a number of technology products across verticals, including data centers, software-defined infrastructure, and private cloud technology.
In HPE's fiscal 4Q16 earnings call, the company's CEO, Meg Whitman, stated, "We're focused on winning in key growth areas in the traditional data center like big data analytics, high performance compute, all-flash storage and networking." HPE also helped Dropbox to meet the demand of its growing user base by transitioning to hybrid infrastructure.
Article continues below advertisement
Acquisition of SGI
In order to penetrate the computing and data analytics space, HPE acquired SGI, a company that provides services in data analytics and data management. The deal was valued at $275 million, or $7.75 per share. SGI has over 1,000 employees and sees annual revenue of over $500 million. SGI is one of the major players in the high-performance computing (or HPC) segment.
Partnerships with technology heavyweights
In June 2016, Hewlett-Packard Enterprise announced a partnership with GE Digital, through which the former will enable "industrial analytics from the edge to the cloud." GE Digital has chosen HPE as its primary storage and infrastructure service provider for its Predix Cloud technologies.
HPE announced a strategic alliance with Docker, allowing HPE to enable the customer transformation and modernization of data centers. In 2015, HPE and Microsoft (MSFT) entered into a deal under which HPE would sell Microsoft Azure as its preferred cloud alternative. HPE plans to use Azure on its private and hybrid clouds.
Hewlett-Packard Enterprise stated that Home Depot (HD) and Best Buy (BBY) were implementing Aruba's WLAN (wireless local area network) solutions to provide customers and employees with better in-store experiences.