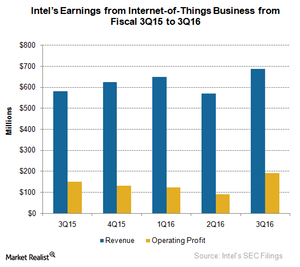 How Is Intel Placed among Competitors in the IoT Space?
Intel in the IoT space
In the previous part of this series, we saw that Intel (INTC) is moving rapidly in the AI (artificial intelligence) space with respect to acquisitions and partnerships. Intel's competitors are also using acquisitions and partnerships to grow in the IoT (Internet of Things) space.
The two biggest acquisitions of 2016—the Qualcomm (QCOM)–NXP Semiconductors (NXPI) merger and the SoftBank–ARM Holdings (ARMH) merger—would create semiconductor giants in the automotive and IoT space, tough competition to Intel.
Article continues below advertisement
Article continues below advertisement
Intel's IoT earnings
As seen from the chart above, Intel's IoT group revenues grew 19% YoY (year-over-year) to $689 million in fiscal 3Q16, driven by strong demand from retail, video, and transportation. The group's operating profits rose 27% YoY to $191 million during the quarter, equating to an operating margin of 27.7%.
Intel expects to maintain the earnings trend of double-digit YoY growth and operating margins above 20%. The company expects this growth to be driven by strong momentum in the Video Analytics, Retail, and Industrial segments.
Intel is looking to grow in the automotive space, which provides strong growth potential. This is visible from Nvidia's (NVDA) Automotive revenues, which grew more than 60% YoY in the September 2016 quarter.
Intel's IoT products
Looking to grow in the IoT market, Intel launched the 14nm (nanometer) Apollo Lake processors E3900 series targeted at embedded devices, as well as the A3900 series to target the automotive space.
The E3900 series support Microsoft, Linux, Android, and RTOS operating systems, have two to four x86 cores, and 6–12 watts. This series is tailor-made for industrial applications. The high-end E3900 series supports 4K video at 60 frames per second and three graphics pipelines.
Competition in the IoT space
Intel's Atom processors designed for automotive and industrial applications face strong competition from ARM's Cortex-M MCUs (microcontrollers) that are appropriate for IoT. According to IHS, Intel's new Quark x86 chips rank 17th among MCU vendors and behind Renesas, NXP, and Microchip in order of magnitude.
There are rumors that Intel is currently designing six more x86 MCUs as it looks to expand in the IoT space. Meanwhile, there are other rumors that Intel is exiting the wearables space. We'll look into this in the next part of the series.