How Useful Will ServiceMax Be in GE Digital's Industrial Internet Vision?
ServiceMax's complementary capabilities would help GE Digital develop and expedite the commercialization of its Predix applications.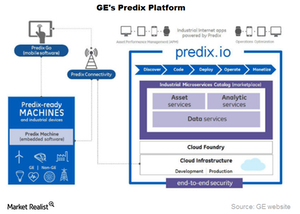 GE's Predix platform
General Electric's (GE) Predix platform is a cloud-based operating system that combines services including storage, computing, and security with the ability to handle objects and analyze them. With Predix, the industrial Internet can apply a range of technology to solve problems in improving asset performance, asset costs, and asset operations across the spectrum of the industrial complex.
Article continues below advertisement
Article continues below advertisement
The ServiceMax deal rationale
In a nutshell, ServiceMax's complementary capabilities would help GE Digital develop and expedite the commercialization of its Predix applications. The purchase would enable GE Digital to service products through a single and solid platform, and GE expects to cater to the service needs of businesses throughout the service delivery process. The acquisition should also offer the quintessential expertise and technologies required to propel GE Digital's current services solutions roadmaps.
ServiceMax: a catalyst for the industrial Internet
GE has lately been speeding up its productivity improvements through digitizing service processes, and the company expects to boost internal productivity with the ServiceMax's offerings. With this acquisition, the Boston-headquartered industrial giant aims to add analytics and insights to ServiceMax's logistics, workforce optimization, and deployment models. According to a GE estimate, improvements in service productivity could amount to $25 billion through the use of analytical tools.
Article continues below advertisement
ServiceMax's platform offers a comprehensive suite of applications, including inventory and parts logistics, scheduling and workforce optimization, and work order management. The ServiceMax transaction would thus enable GE's customers to utilize these offerings from a state-of-the-art application development cloud and field-ready mobile platform.
This application development cloud and mobile platform are expected to integrate GE's deep domain expertise and superior industrial portfolio with ServiceMax's field service expertise. The industrial heavyweight meanwhile hopes to leverage its Predix platform to boost the development of its other industrial applications that focus on service delivery.
ETF investment
On November 14, 2016, GE's stock slipped 0.7% and closed at $30.5. Year-to-date, the company's shares have fallen 2%, whereas the SPDR S&P 500 ETF Trust (SPY) has risen 6.2%. Apart from GE, SPY also has holdings in big industrial companies like Berkshire Hathaway (BRK-B), 3M Company (MMM), Honeywell International (HON), and Boeing.