How Is Thermo Fisher Scientific's FEI Integration Process Going?
Thermo Fisher Scientific (TMO) completed the acquisition of FEI Company on September 19, 2016.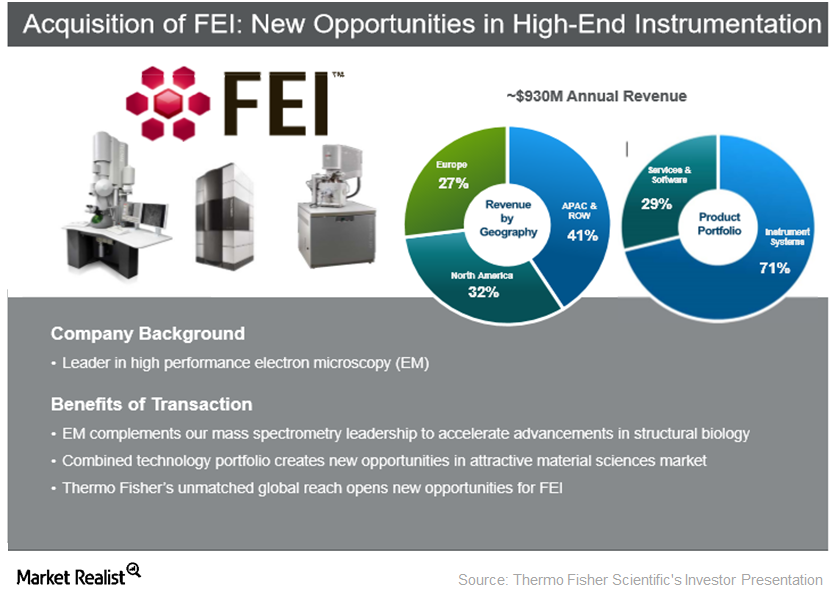 Overview
Thermo Fisher Scientific (TMO) completed the acquisition of FEI Company on September 19, 2016. The FEI business now forms part of Thermo Fisher Scientific's Analytical Instruments segment. The company expects the new business to grow at a faster rate than the average growth rate of the company. The company is a leader in electron microscopy, which provides Thermo Fisher Scientific an increase in the scope of offerings the company can provide to its customers. It has a strong presence in emerging markets and Asia-Pacific, thus expanding the company's market share opportunities in these geographies.
Article continues below advertisement
Article continues below advertisement
Integration progress and expectations
The integration of the FEI Company is underway as per expectations. Thermo Fisher Scientific maintains its projection that it will achieve total FEI company-related synergies of $80 million by the end of the third year of the acquisition. Successful ongoing integration of FEIC and the company's strong operational performance led to the increase in its full-year 2016 guidance during the 3Q16 earnings announcement on October 27, 2016. In 3Q16, the company registered around $100 million of revenues from FEIC. Due to the timing of the FEIC acquisition-related financing activities, Thermo Fisher Scientific reported $2 billion in cash and investments at the end of 3Q16, which was higher than the normal range of cash and investments reported in the other quarters. The company paid down debt obligations of around $1.2 billion from this at the start of 4Q16.
Due to the acquisition of FEIC, Thermo Fisher Scientific's debt obligations reached $18.9 billion at the end of 3Q16, up from $14.1 billion at the end of 2Q16.
Some of the company's major competitors that are also making big investments in inorganic growth include Stryker (SYK), Zimmer Biomet Holdings (ZBH), and Abbott Laboratories (ABT). The iShares Russell 1000 Value ETF (IWD) invests approximately 0.28% of its portfolio in Thermo Fisher Scientific.
Next, let's look at the company's capital allocation strategy and how it is impacting the company's growth.