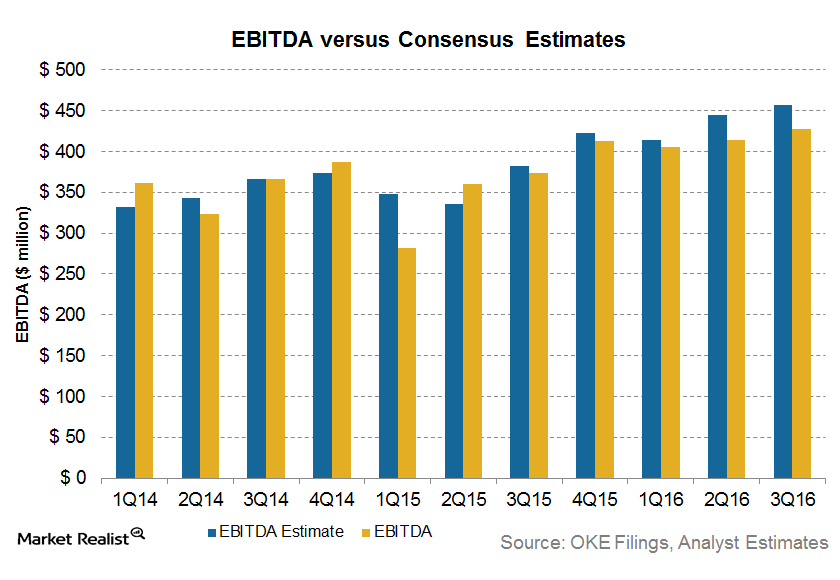 What Drove ONEOK's 3Q16 Earnings Growth?
ONEOK's earnings rise 14%
ONEOK (OKE) reported its 3Q16 results on November 1, 2016, after the market closed. Its 3Q16 analyst-adjusted EBITDA (earnings before interest, tax, depreciation, and amortization) rose 14.4%, from $374.0 million in 3Q15 to $427.5 million in 3Q16. Analysts expected EBITDA of $457.2 million for the quarter. It missed EBITDA estimates for the quarter by 6.4%.
The above graph compares OKE's EBITDA estimates with its adjusted EBITDA. Enterprise Products Partners (EPD) also missed analysts' 3Q16 earnings estimates.
Article continues below advertisement
Higher volumes drive EBITDA growth
ONEOK operates as a pure-play general partner of ONEOK Partners (OKS). In 3Q16, the company's EBITDA growth was driven by the following:
higher NGL (natural gas liquid) volumes due to its Williston Basin processing plant recently being placed into service
higher average fee rates as a result of contract restructuring efforts in the natural gas gathering and processing segment
higher natural gas volumes in the Williston Basin
higher transportation revenue
Terry K. Spencer, president and chief executive officer of ONEOK, said, "ONEOK continues to benefit from ONEOK Partners' well-positioned assets and resulting volume growth from recently completed capital-growth projects."
Strong dividend coverage
ONEOK's cash flow available for dividends fell from $173.0 million in 3Q15 to $167.8 million in 3Q16, resulting in slightly lower dividend coverage. ONEOK reported coverage of 1.3x in 3Q16. On October 19, 2016, it declared quarterly dividends of ~$0.62 per share for 3Q16, unchanged from the previous quarter. OKE's dividends were flat in 1Q16 and 2Q16 as well.