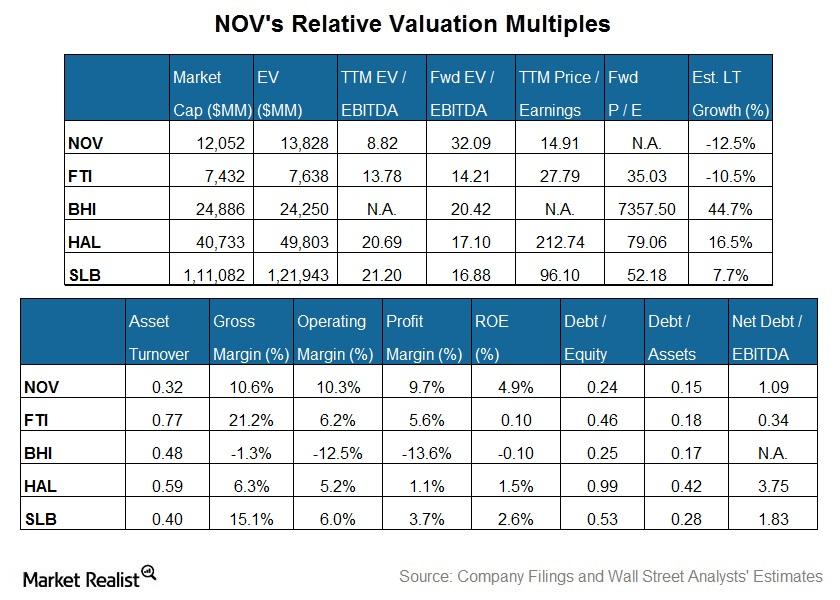 How National Oilwell Varco's Valuation Stacks Up with Peers
Comparable company analysis
Article continues below advertisement
National Oilwell Varco's EV-to-EBITDA ratio
National Oilwell Varco's (NOV) EV (approximately the summation of its equity value and net debt) when scaled by trailing-12-month (or TTM) adjusted EBITDA is lower than the peers' average in the group. Adjusted EBITDA excludes extraordinary charges like asset write-offs, severance, and facility closure charges. SLB has the highest TTM EV-to-EBITDA multiple in our group here. National Oilwell Varco makes up 0.75% of the iShares North American Natural Resources ETF (IGE).
Forward EV-to-EBITDA is a useful metric to gauge relative valuation. NOV's forward EV-to-EBITDA multiple expansion versus its adjusted TTM EV-to-EBITDA is considerably higher than the peer average in our group here because the expected drop in NOV's adjusted operating earnings (or EBITDA) in 2016 is more extreme compared to that of its peers. This also explains NOV's low current EV-to-EBITDA multiple.
Article continues below advertisement
National Oilwell Varco's debt levels
National Oilwell Varco's debt-to-equity multiple is lower than the group average. A lower multiple could indicate decreased credit riskiness. This is comforting when crude oil prices are volatile. Halliburton (HAL) is the most leveraged in our group. For a comparative analysis of the top OFS companies, read Market Realist's article on Are Oilfield Service Giants Making a Comeback?
Price-to-earnings ratio
National Oilwell Varco's TTM PE (price-to-earnings) multiple of ~15x is lower than its peer average in the group. Its forward PE multiple like some of its peers in the group, is not available, reflecting analysts' expectation of negative earnings in the next four quarters. Analysts also expect a 12.5% earnings decline for National Oilwell Varco in the next three to five years. This could lower NOV's valuation in the medium to long term.
Is National Oilwell Varco's stock volatile? We'll discuss the answer to this question next.