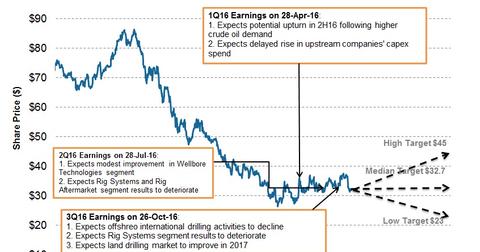 National Oilwell Varco's Growth Prospects in 4Q16 and 2017
By Alex Chamberlin

Updated
When does management see a recovery?
National Oilwell Varco's (NOV) management expects most of the upstream recovery in North America to take place in 2H17. However, management also thinks that a fall in offshore drilling continues to drag many international markets. Jose A. Bayardo, National Oilwell Varco's CFO, commented in the 3Q16 conference call, "In North America, smaller contractors are looking to add more modern rigs to their fleet, and while most larger contractors don't expect a need for new land build orders until the second half of 2017, they're expressing strong interest in improving the pressure and torque capabilities of their existing AC rig fleets through upgraded 7,500-PSI mud systems, new top-drives and iron roughnecks."
Article continues below advertisement
Is the cost structure changing?
National Oilwell Varco's management expects savings from headcount reductions and facility closures to flow in the coming quarter. Clay Williams, National Oilwell Varco's chairman and CEO, commented in the 3Q16 conference call, "We're on track to obtain $3.1 billion in annual structural contractor and workforce cost reductions by year-end." National Oilwell Varco accounts for 0.06% of the iShares Russell 1000 ETF (IWB). For investors looking for some exposure to the energy sector, energy accounts for ~7% of IWB.
Growth prospects for 4Q16 and 2017
International market – National Oilwell Varco expects deterioration in the offshore international business due to pricing pressure and an unfavorable business mix.
It expects the Completion & Production Solutions segment's operating margin to improve in the mid-single-digit percentage range in 4Q16 due to cost reductions.
The company expects Wellbore Technologies' revenue to fall slightly in 4Q16.
National Oilwell Varco expects to see higher demand for premium drill pipe and IntelliServ wired drill pipe in 2017 due to improved drilling efficiency and wellbore placement.
The land drilling market is expected to improve in 2017.
Its expects the Rig Systems segment's revenue to fall in the mid-single-digit percentage range. The segment's margins will likely fall compared to 3Q16.
Analysts' target price
While analysts' lowest target price for National Oilwell Varco is $23, the highest is $45. The median target price for the company, surveyed among the sell-side analysts, is ~$32.6. Currently, National Oilwell Varco is trading near $33.3. It implies a 2% downside at its median price. FMC Technologies (FTI), National Oilwell Varco's peer, received a $34.3 median target price. Relative to its current price, it implies 1% downside.
Next, we'll discuss National Oilwell Varco's revenue and earnings.