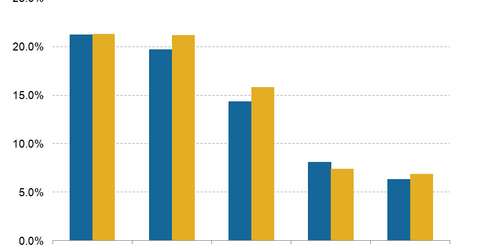 Can Apple's New MacBook Lineup Help Grow Its PC Market Share?
By Puneet Sikka

Updated
Apple's new MacBook Pro lineup brings optimism
Last quarter was not a great one for Apple (AAPL) in terms of Mac sales. Its revenues from the Mac segment fell 17%, while Mac unit sales fell 14% in the last quarter on a year-over-year basis. This resulted in Mac's share of the PC market declining from 8.1% in 3Q15 to 7.4% in 3Q16, according to a report from IDC. Although the overall PC market fell by about 3.9% in the last quarter, Lenovo, HP (HPQ), and Dell gained market share. The below chart shows these numbers.
Article continues below advertisement
Recently, Microsoft (MSFT) also launched its Surface Studio PC, which is another threat to Mac, as both Microsoft's new launch and Mac cater to high-end customers. However, all is not lost for Apple. Last month, Apple announced that it is refreshing its MacBook Pro lineups. The new MacBook Pros are significantly thinner and lighter than their predecessor. The new MacBook Pro also boasts of the new Touch Bar multitouch functionality.
The overall PC market has shown signs of a comeback
The good news for Apple is that the overall PC market is showing signs of making a comeback. The 3.9% decline in the PC market in the last quarter is much better than IDC's earlier prediction of around a 7% decline. In 2Q16 as well, IDC had predicted a decline of 7.4% in the PC market, but the actual decline was much better at only 4.5%.
According to IDC, "Industry efforts to update products to leverage new processors and operating systems, to deliver a better computing experience encompassing more mobile, secure, and faster systems, and to accelerate PC replacements have been critical. These improvements are accumulating, and set the stage for a stronger market going forward."