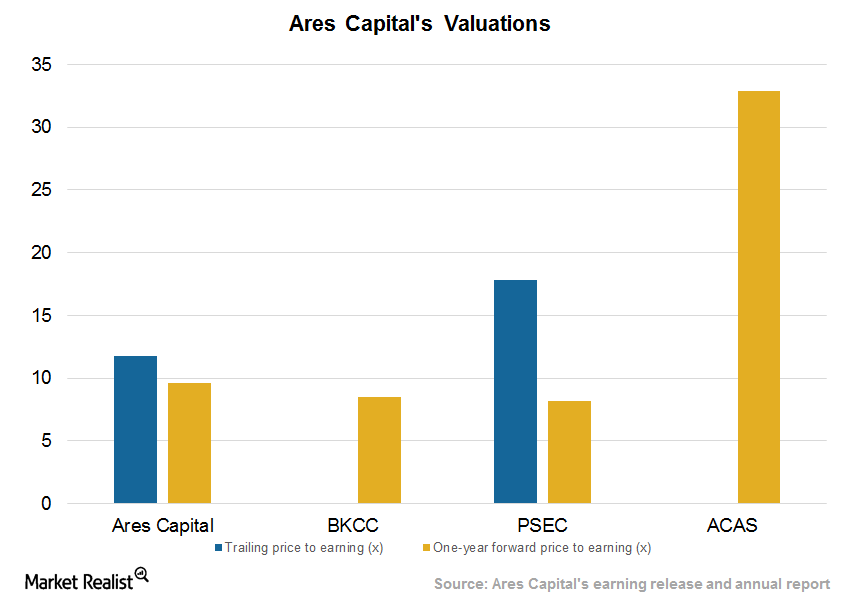 Ares Capital Stock and Valuations Rise on Strong Performance
Dividends
Ares Capital (ARCC) stock has risen ~1.6% over the past six months. The company saw a strong performance in 3Q16 on higher deployment, yields, and lower expenses. The company paid a dividend of $0.38 per share in 3Q16, in line with the dividend paid the year before.
With a dividend yield of 9.8%, the acquisition of American Capital (ACAS), and improving portfolio yields, the company may provide better returns to its shareholders over the next few quarters. Here's how some of its competitors compare in terms of dividends:
Article continues below advertisement
Together, these companies form 6.1% of the PowerShares Global Listed Private Equity ETF (PSP). During 3Q16, Ares Capital's net investment income rose on a year-over-year basis on new deployments. The company saw lower net realized gains and GAAP net income. Ares Capital's takeover of American Capital will result in diversification toward retail loans.
Valuations
Currently, Ares Capital is trading at 9.6x on a one-year forward earnings basis. Its peers are trading at 8.8x. Historically, the company has traded at a premium due to its quality portfolio and SSLP partnership with GE Capital. Investors tend to give a premium to investment management companies investing in higher yielding debt with lower risk and moderately leveraged balance sheets.
Middle market lenders could see a revival of their yields as the Fed is likely gearing up for another rate hike in 4Q16. This could propel yields in the market and could result in lending at relatively higher yields.
If Ares Capital can improve its originations and build its SDLP portfolio at a quicker pace with a similar or better yield profile, then investors may see higher investment and distributable income.