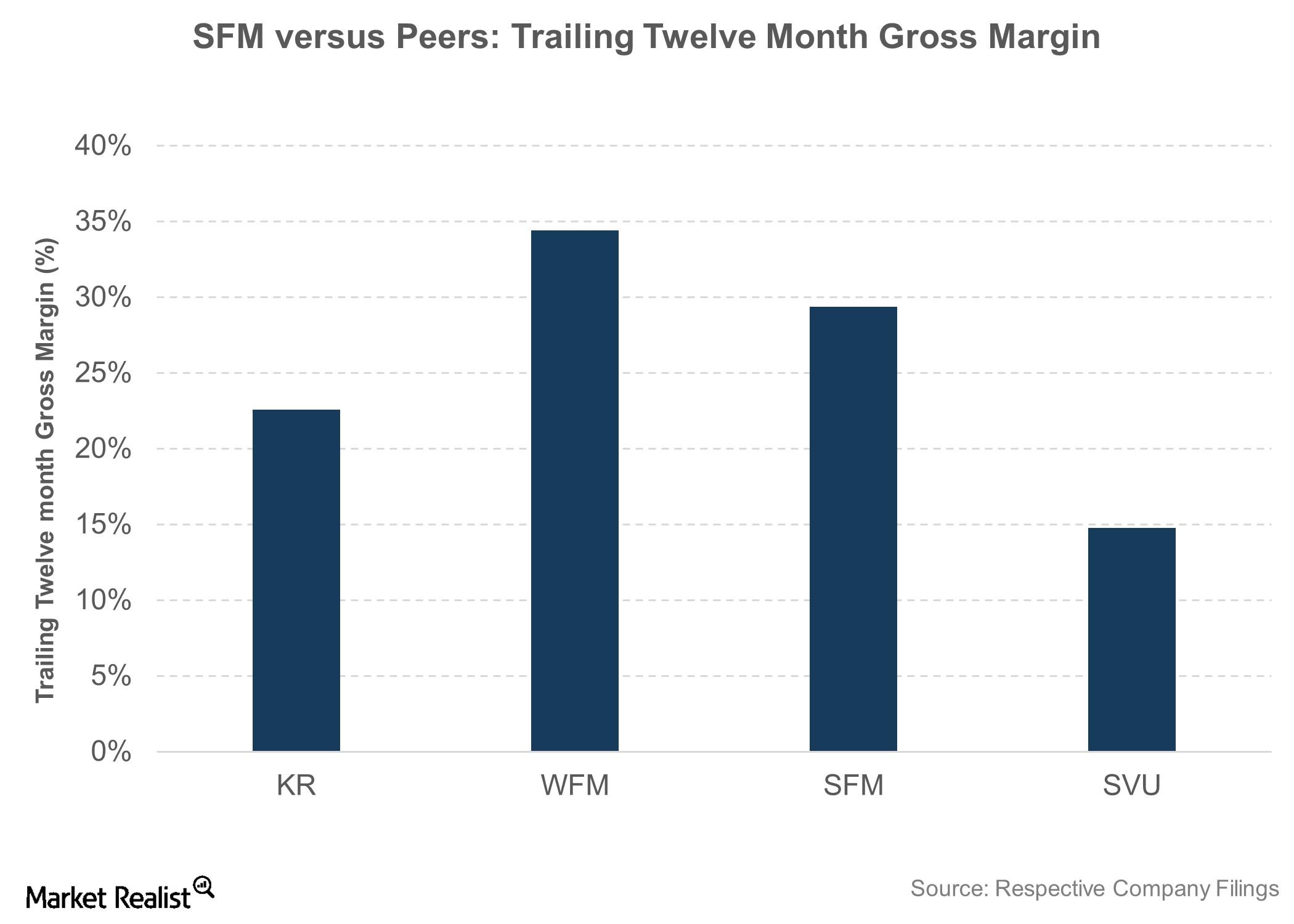 Analyzing Sprouts Farmers Market's Margins and Profitability
Investments impact the gross margin in 3Q16
As we discussed previously, Sprouts Farmers Market (SFM) reported its fiscal 3Q16 results on November 3, 2016. Its sales comps continued to face deflationary headwinds and grew at the slowest pace since Sprouts Farmers Market was listed in July 2013.
The gross margins also came under pressure and fell by 80 basis points to 28.1%. Most of the fall was due to the price investments that the company was forced to make to remain competitive in the highly promotional retail environment.
"60 basis points of this reduction was due to price investments in certain categories in order to maintain our competitive pricing position, along with slightly higher shrink from lower comp sales growth," said Bradley Lukow, Sprouts Farmers Market's CFO.
Article continues below advertisement
Despite the slowdown, the company continues to display better margins compared to Kroger (KR) and Supervalu (SVU). Sprouts Farmers Market's trailing 12-month gross margin stands at 29.4%—compared to 14.8% for Supervalu and 22.1% for Kroger. Whole Foods Market (WFM) continues to enjoy higher margins. Its trailing 12-month gross margin stands at 34.4%.
Higher costs impact 3Q16 profits
Its adjusted EBITDA (earnings before interest, tax, depreciation, and amortization) fell 14% YoY (year-over-year) due to lower margins, higher labor costs, and additional expenses incurred on Haggen store openings during the quarter. The adjusted EBITDA stood at $63 million.
As a result, the net income fell 27% YoY to $24 million. The diluted earnings per share fell 24% to $0.16. It missed Wall Street analysts' estimate of $0.17 by $0.01.
Investors looking to invest in Sprouts Farmers Market through ETFs can choose to invest in the iShares S&P Mid-Cap 400 Growth ETF (IJK). Sprouts Farmers Market accounts for ~0.44% of IJK.
In the next part, we'll discuss how Sprouts Farmers Market's earnings release impacted its share price, its current valuations, and Wall Street analysts' recommendations.