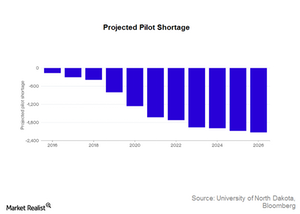 Why Is There a Pilot Shortage in the Airline Industry?
By Ally Schmidt

Updated
Pilots are retiring
As many as 30,000 pilots will reach the mandatory retirement age of 65 years by 2026. According to a study by North Dakota University, if there aren't sufficient new hires to replace them, airlines could face a pilot shortage in perhaps three years. In the next ten years, by 2026, the pilot shortage could be as high as 15,000.
Article continues below advertisement
New FAA rule
After the 2009 Colgan Air crash that was attributed to pilot fatigue, the FAA (Federal Aviation Administration) announced a new set of rules. The new rules called for better pilot training to prevent and recover from flight stalls, to recover from crosswinds, and to learn runway safety procedures. One of the major changes was increasing pilot qualification requirements from 250 hours of flying experience to 1,500 flying hours.
High training cost and low pay
The largest aviation program in the United States is offered by the University of North Dakota. It charges students ~$64,500 for flight training. If you include room, board, and tuition, the program can cost as much as $105,400.
With the new FAA rules, pilots graduate without enough flying experience. Flying lessons can cost almost $100 per hour. This would further raise the cost of a pilot training program to about $150,000.
Given these huge training costs, the starting pay of $20,000 with regional carriers just doesn't seem enough. Pilots for regional carriers are usually hired by large carriers such as Delta Air Lines (DAL), United Continental (UAL), American Airlines (AAL), and Southwest Airlines (LUV).
Pay at regional carriers was kept low due to pressure from major carriers to reduce costs. In 2007, the U.S. Congress increased the pilot retirement age from 60 years to 65 years, which was already the international standard. Budget cuts in the recession after 2008 also led to many pilots being laid off.
All these factors have discouraged people from choosing aviation as a career path. Today, the pilot crunch, coupled with low pay, has come back to haunt the airlines, which are now trying to address this issue.
The PowerShares Dynamic Large Cap Value ETF (PWV) holds 1.7% of its portfolio in Delta Air Lines.