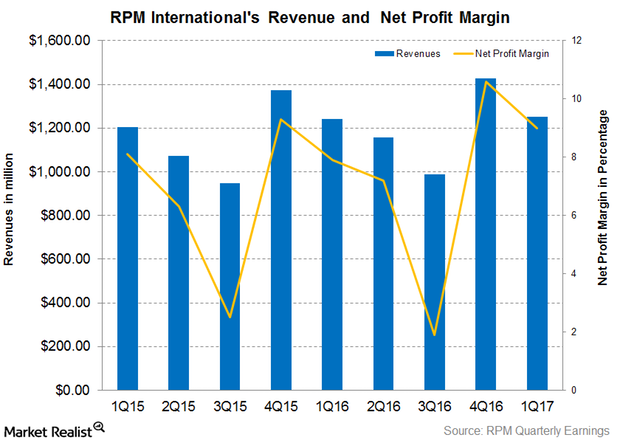 Why Did RPM's Fiscal 1Q17 Revenues Miss Analyst Estimates?
RPM International's fiscal 1Q17 revenues
RPM International (RPM) reported fiscal 1Q17 revenues of $1.25 billion, which missed analysts' expectation of $1.30 billion. However, RPM's revenue rose 0.8% compared to its fiscal 1Q16 revenue of $1.24 billion. RPM International's financial reporting period is from June 1 to May 31. RPM's peers in the coatings business like Sherwin-Williams (SHW) and PPG Industries (PPG) are set to announce their 3Q16 earnings at the end of October. On September 7, Valspar (VAL) announced 3Q16 earnings and reported revenue of $1.14 billion. See our Valspar's 3Q16 Earnings for more detail.
Article continues below advertisement
RPM International's revenue growth was mainly driven by the US commercial constructions markets, a strong performance in Brazil, and a good performance from its specialty segment, which saw sales growth of 3.8%. On the other hand, choppy European markets, slowdowns in the energy and heavy equipment industries, and foreign exchange currency translations negatively affected revenue by 2.4%. The decline in the British pound against the US dollar weighed heavily on foreign exchange translations.
Net profit margins
RPM International reported a net profit margin of 9.0%, or $112.8 million, and beat analysts' estimate of 8.4%. Year-over-year, the net profit margin rose by 110 basis points. The increase in net profit was mainly driven by the reduction in the effective tax rate to 23.6% in 1Q17 as compared to 29.4% in 1Q16. Plus, the cost of sales fell to $700 million in 1Q17 as compared to $709.5 million in 1Q16.
The gains were partially offset by the increase in selling, general, and administrative expenses (or SG&A) from $372.9 million in 1Q16 to $384.1 million in 1Q17. The increase was mainly driven by higher pension, acquisition, and bad debt expenses. The interest expense rose marginally from $22.5 million in 1Q16 to $22.8 million in 1Q17.
Investors can indirectly invest in RPM International by investing in the ProShares S&P MidCap 400 Dividend Aristocrats ETF (REGL), which invests 2.3% of its portfolio in RPM International as of October 6, 2016. In the next parts, we'll look into RPM's reporting segments in detail.