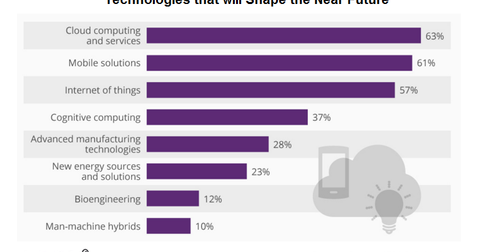 Why Was Salesforce Destined to Lose to Microsoft in the SaaS Space?
By Anne Shields

Updated
Competition is intensifying between Microsoft and Salesforce
Citing a Synergy Research group report, Eweek.com stated that Microsoft held 15% share of global enterprise SaaS (software-as-a-service) revenues, whereas Salesforce (CRM) held 14% in 2Q16. In 1Q16, though both companies held 14%, Salesforce held the top spot.
If we look at the recent developments in SaaS, this news shouldn't come as a surprise. Salesforce was a leader in SaaS in 2015, with a ~14.8% market share, but it recorded the lowest growth (21%) among the top ten players. Microsoft (MSFT), which trailed Salesforce with a 13% market share, recorded a 70% growth and was able to improve its market share in SaaS by three percentage points. SAP recorded the highest growth in SaaS at 73%.

Article continues below advertisement
Earlier in this series, we discussed how to capture a larger pie of the CRM (customer relationship management) segment in the SaaS space, Microsoft and Oracle (ORCL) have announced acquisitions of LinkedIn (LNKD) and Netsuite, respectively. Although Salesforce, which pioneered the SaaS model, lost its leadership position in overall enterprise SaaS space to Microsoft, it continues to lead CRM. However, Adobe's and Microsoft's fast growth pose growing competition and threaten Salesforce's leadership in CRM.
Salesforce, feeling threatened by the growing dominance of Microsoft, recently raised objections to the deal between Microsoft (MSFT) and LinkedIn (LNKD).
In response to Salesforce's objections, Brad Smith, Microsoft's President and Chief Legal Officer, commented that Salesforce has the dominant position in the CRM space, stating: "We're committed to continue working to bring price competition to a CRM market in which Salesforce is the dominant participant charging customers higher prices today."
By attaining top position in SaaS, Microsoft confirmed its viewpoint. Salesforce has also made news recently with its interest in Twitter (TWTR).
Growing competition and falling growth
While huge growth is expected in SaaS, increasing competition and Salesforce's falling growth have led the company to lose its position to Microsoft in SaaS.
Notably, Salesforce had previously submitted a bid for LinkedIn, but Microsoft raised its price for LinkedIn and outbid Salesforce. Salesforce also faced a bidding war from Adobe (ADBE) during its acquisition of Demandware—its largest acquisition to date.