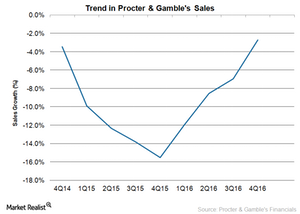 What Are Procter & Gamble's Strategies for Future Growth?
Procter & Gamble's strategies 
With Procter & Gamble (PG) set to announce its fiscal 1Q17 results on October 25, 2016, let's look at some of its key growth strategies. At the Barclays Back-to-School Consumer Conference on September 8, 2016, Procter & Gamble's CFO (chief financial officer) Jon Moeller discussed the company's key growth strategies.
The company's growth strategies involve focusing on innovation, cost savings, portfolio transformation, innovation, and productivity improvements.
Article continues below advertisement
Growth strategies
Procter & Gamble's sales have fallen for 11 consecutive quarters due to forex (foreign exchange) headwinds, the negative impact of minor brand divestitures, and macro weakness in certain markets. The company is trying to boost its sales through a continued focus on innovation. It spent $1.9 billion on research and development in fiscal 2016.
Peers Colgate-Palmolive (CL) and Clorox (CLX) spent $274.0 million and $141.0 million, respectively, on research and development in fiscal 2015 and fiscal 2016.
To grow its top line, Procter & Gamble has developed several new products with recent innovations. They include Luvs diapers with NightLock Plus, Pantene Expert Collection, and Cascade Platinum ActionPacs.
The company is also focusing on the expansion of its e-commerce channel. In the Barclays Consumer Conference call, Moeller stated that the company's online sales grew significantly in fiscal 2016. It was able to maintain or grow its e-commerce share in six of eight top countries.
Productivity is another key focus area for the company. Its productivity initiatives include manufacturing automation, supply chain transformations, and ensuring effective promotional spending. The company expects ~$10.0 billion from productivity savings from fiscal 2017 to fiscal 2021.
The company is reinvesting its productivity savings in innovation and marketing. Some of the attractive campaigns include its Always #Like a Girl campaign and its SK-II change destiny campaign. The company is also investing in product sampling programs to gain more visibility. For instance, it plans to ensure that 70.0% of new moms in the United States receive samples of its best baby care products.
Procter & Gamble is also transforming its brand portfolio by selling its noncore businesses. It has already sold 41 brands in its Beauty segment to Coty (COTY). The company has also discontinued certain unprofitable products in its Mexico Family Care business.
We'll look at analysts' recommendations for Procter & Gamble stock in the next and final part of this series.