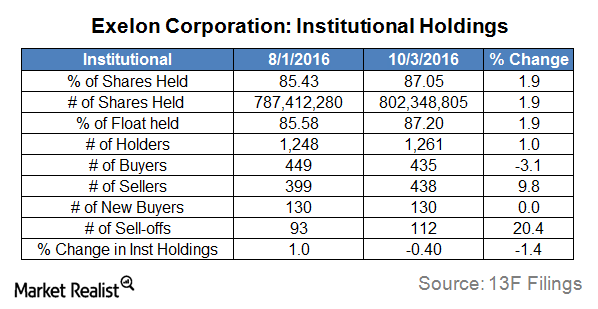 A Look at Institutional Investors' Holdings in Exelon
Exelon's institutional holdings
Institutional investors seem to be still increasing their positions in Exelon (EXC). In the past couple of months, institutions have increased their positions in the company by nearly 2%, from 85.6% to 87.2%, as of October 3, 2016. Remember, "float" refers to shares available for trading.
Article continues below advertisement
What are institutions doing with their Exelon holdings?
In August and September 2016, buyers in Exelon declined by more than 3% while sellers rose nearly 10%. However, the number of sell-offs rose by more than 20%, while the number of new buyers stayed flat at 130 in the same period.
Blackrock, Capital Group, and Vanguard Group are the top institutions that hold Exelon. These firms hold 7.6%, 7.3%, and 6.4%, respectively, of Exelon's float.
Exelon in the long term
Considering Exelon's performance in the first half of 2016, it has outperformed many of its peers. The rally in Exelon was much steeper than many of its hybrid utility peers. However, the dividend distribution from Exelon ahead becomes dubious due to its relatively volatile earnings. Competitive utilities generally have unstable earnings due to their exposure to wholesale power and capacity markets. However, increased regulated operations after Pepco acquisition may stabilize Exelon's earnings to a certain extent.
The stock's movement going forward is also likely to have periodic hiccups due to the hawkish rate hike tone from the Fed. On the bright side, utilities (XLU) may, in fact, continue to rally as they did from December 2015 if the rate hike is not substantially large.
Check out Market Realist's series Why Exelon Might Be an Investor Favorite for Hybrid Utilities for more analysis. Continue to the next part of this series for a look at Exelon's implied volatility.