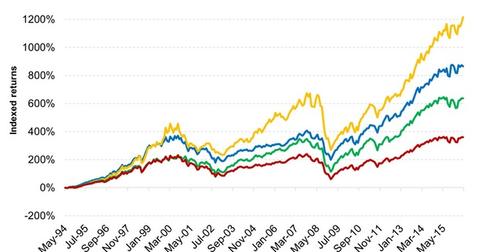 An Introduction to Smart Beta and Relative Strength
By Sanmit Amin

Oct. 3 2016, Published 10:13 a.m. ET
In this section of the interview, Market Realist interviews Tom Dorsey, the founder of Dorsey, Wright & Associates. Dorsey Wright, which was acquired by Nasdaq Global Indexes in early 2015, specializes in technical analysis strategies and has developed a suite of indexes, which are utilized by PowerShares and First Trust as a basis for a suite of distinct ETF products.
Article continues below advertisement
Market Realist: How do you define smart beta?
Tom: To me, smart beta is a rules-based process that can be clearly defined, that the buyer of the product can understand completely, and helps to manage money in a logical and organized way.
Sixteen years ago, Dorsey, Wright & Associates found that the best approach for us was to computerize a previously labor-intensive process. Our approach today, which is relative strength, is no different from what we did 28 years ago by hand. Now that computers can do it a lot faster for us, we can evaluate a larger number of opportunities. So again, smart beta to me is a rules-based methodology to managing money.
Market Realist's View: An introduction to smart beta and relative strength
Smart beta investing tries to rewrite investment rules in order to improve investment outcomes by targeting exposures to well-understood investment ideas. Smart beta captures investment factors through a rules-based approach. The factors include momentum, quality, value, and size along with minimum volatility. Smart beta indices generally invest in stocks with certain themes, such as stocks characterized by high-quality fundamental attributes, the valuation and size of the company, and so on.
Article continues below advertisement
As the graph above[1. The graph above was created using performance history from the following indexes: The MSCI USA Quality Index, MSCI USA Momentum Index, MSCI USA Size Index, and the S&P 500 Index.  Investors cannot invest directly in an index.  Indexes have no fees.  Past performance is not indicative of future results.  Potential for profits is accompanied by possibility of loss.  The momentum strategy is NOT a guarantee. There may be times where all investments and strategies are unfavorable and depreciate in value.] shows, smart beta strategies have outperformed the S&P 500 (IVV) historically. The factors tracking momentum stocks (PDP) have done particularly well, followed by quality (QUAL) and size (SIZE). In the long term, smart beta strategies tend to outperform markets.
On the other hand, relative strength is a momentum investing technique that compares the performance of a particular security to that of other securities or broader markets. It calculates which securities are the stronger performers and recommends investing in them. It assumes a security whose price has been rising will continue in that direction.