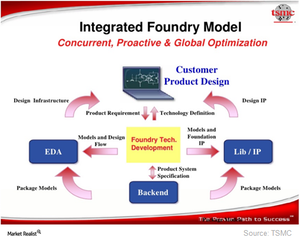 What Is Intel's Strategy behind Its Foundry Model?
Intel's foundry model
In a year, Intel (INTC) spends around $20 billion on R&D (research and development) and capital expenditure. These spending levels make Intel the largest spender in R&D in the semiconductor market, according to IC Insights.
The company manufactures its own chips, and development takes place at two levels: the chip level and the manufacturing technology level.
While the company develops its chip technology, it plans to simultaneously develop its manufacturing technology through its foundry strategy. Intel has the most advanced manufacturing technology, but it lacks diversity. Hence, it manufactures mobile chips at TSMC (TSM) instead of its own fabrication facilities, or fabs.
Now, Intel is looking to offer its fabs to a diverse set of clients in order to diversify its manufacturing competencies and, in turn, make these competencies available for its product businesses.
Article continues below advertisement
Article continues below advertisement
Intel–ARM partnership
In fiscal 3Q16, Intel (INTC) partnered with ARM Holdings (ARMH) to provide foundry services for ARM-based chips. ARM's architecture dominates the mobile space and is better positioned than Intel's x86 architecture for IoT (Internet of Things) devices.
This would help Intel make its fabs suitable for manufacturing its own chips for embedded devices. There is a possibility that Intel could use ARM and x86 architectures simultaneously or separately in some of its products. It recently developed Stratix 10 FPGA (field-programmable gate array) on the 64-bit ARM processor.
Intel–Spreadtrum partnership
Intel announced another foundry partnership with Spreadtrum, but it did not identify the products that would be manufactured. Citing industry sources, Digitimes reported that Intel would manufacture Spreadtrum's smartphone applications processor on its 14nm (nanometer) technology.
Digitimes stated that Spreadtrum would start sampling these processors in October 2016, aiming to secure a design win for Samsung's (SSNLF) 2017 mid-range smartphone series.
In response to this rumor, some analysts speculated that there is strong price competition in Samsung's mid-tange and low-range phones. The handset maker uses several suppliers such as Qualcomm (QCOM) and MediaTek. TSMC manufactures most of these chips at a gross margin of ~50%, giving semiconductor companies a chance to earn a gross margin of 30%.
If Intel succeeds in developing low-cost, high-performance chips, the partnership would improve Intel's margins and might attract other fabless mobile chip suppliers to use its foundry services. If Intel fails to make the Spreadtrum partnership profitable, Intel's opportunities in the foundry space for mobile chips would be limited unless its technology becomes more competitive either in terms of performance, price, or both.
Intel's foundry strategy is its method of participating in the mobile market. Next, we'll look at Intel's other efforts in the mobile space.